Do you have a treasured family heirloom that's been passed down for generations? If so, you may be wondering what to do with it now. There are many ways to transform an heirloom into a new design, and in this blog post we will discuss some of the best options. Whether you want to create a new piece of jewelry or simply update an old one, there are plenty of possibilities. So get creative and see what you can come up with.
Creating symbols of love
You can't simply go out and buy heirloom jewelry. It is family jewelry that has been passed down through generations and is rich in meaning, history, and culture. You can find the answer if you take a look at why it was created. When you ask a person who owns a family heirloom what makes the piece so significant, they might respond, "It was my grandmother's engagement ring" or "My mother was given this when she had her first child." This is the most important aspect of any heirloom piece of jewelry.
Heirloom jewelry is often quite beautiful and distinctive in design. This isn't always the case, but because these pieces are crafted with great attention and created to commemorate special occasions, they generally look stunning and are of very high quality.
How and when are jewelry heirloom traditions created?
Heirloom jewelry traditions are typically created for special occasions.
You value an item more when you receive a wonderful present from family members. What's more, that jewelry piece will later remind you of the wonderful time you spent with your loved one.
That special significance is also what makes you want to give our family heirlooms to other family members—to create more memories and moments full of emotion. You hope that future generations will cherish these sentimental pieces as much as you do.
In this way, heirloom jewelry creates a direct connection to your family history.
Here are five types of jewelry that most often turn into family heirlooms:
Engagement rings
Engagement rings are the classic example of an heirloom. They have significant sentimental and financial value. They represent the love of two people who want to commit to spending the rest of their lives with each other.
2.Diamond earrings
Professionals in the jewelry and fashion industries view diamond earrings as a "jewelry must." This is due to the fact that a timeless set of diamond earrings complements any outfit and never expires, even after many decades have passed. They are beautiful and long-lasting enough to withstand wear from one generation to the next.
3.Diamond pendant necklaces
Beautiful heirlooms include necklaces made of diamonds and gemstones. Cross pendants are frequently given as wedding or communion gifts, and lockets, heart-shaped pendants, and initial necklaces are popular choices for special birthday and holiday presents. For your children, grandchildren, daughters-in-law, godchildren, nieces, and nephews, these make beautiful heirlooms.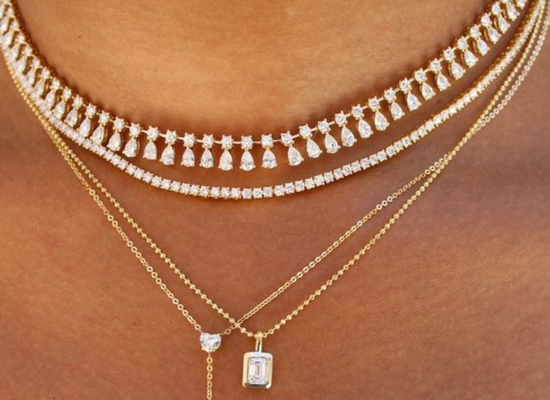 4.Diamond bracelets
One piece of jewelry that is always in style and easily transforms into an heirloom is the diamond bracelet. Tennis bracelets, especially classic tennis bracelets, never go out of style. They are timeless, just like diamond earrings, and they suit any attire and event.
5.Eternity wedding rings
An eternity ring is a lovely and traditional representation of life's cycle. These unique rings are frequently given as wedding bands, anniversary presents, or to mark the birth of a first child. Few pieces of jewelry are as representative of family ties and genuine affection as these. They eventually create a legacy of love as they are passed from parent to child.
Make your heirloom jewelry wearable again.
Redesigning an heirloom piece of jewelry allows you to add a modern twist while keeping the story alive. With the assistance of a qualified jeweler, you can bring your beloved jewelry back to life with modern updates and creative alterations. These suggestions that honor your jewelry's legacy while giving it a completely new look will make you love your heirloom pieces even more.
Let's start:
Envision your precious stone in a new setting.
Remounting a stone in a new setting is a simple solution to improve the look of your jewelry if it doesn't suit your tastes. This is frequently done with engagement rings when the design is unattractive to the new spouse. This enables couples to pay tribute to their loved ones while making an engagement ring they'll love wearing every day. The sentimental value of jewelry can be preserved without having to worry about it looking dated because of the stones it is set with. By consulting with an experienced jeweler, you can find out which setting will work best for the size and shape of your stone.
Refresh with a new stone
Some jewelry designs are timeless and never seem to go out of style, while other trends in jewelry come and go. If your jewelry is worn-out, dull, or just not as appealing to wear any longer, think about switching out your stones for a brand-new twist on your old favorites.
Replacing a dull diamond with a fascinating new beauty is a simple way to update your rings, necklaces, bracelets, and earrings without the expense of a new setting. You can keep your style fresh by giving your old pieces a new, contemporary look. Are you planning to pass down a gemstone? Swap the stones for the new receiver and make a new bespoke jewelry piece with your previous gemstones to cherish for much longer. Remounting or swapping out stones is a great way to honor the past while preserving your jewelry investments.
Keep the stone and change the jewelry.
If you're still keeping in your jewelry box a piece of jewelry that you love due to its sentimental value but don't wear, consider transforming the jewelry into a new piece that you'd reach for more often to wear. For instance, a pendant can easily be turned into a charm or ring, or vice versa, given the proper technical care by your trusted jeweler.
One of our favorite ways to bring an outdated piece to life is by repurposing a strand of pearls. You can elongate or shorten the length of your necklace for a fresh look, or you can switch for other pearls. By combining the pearls into new styles, you can go much further, like creating a pair of pearl earrings alongside a ring.
Customize your treasured piece.
Whether you opt for engravings or create custom features to pair with the jewelry's current precious gemstones, at JewelersConnect you can design and create a piece uniquely yours.
Consider adding your own initials to the piece to show ownership over the ages, or engrave it with a family surname, a special message, or a meaningful symbol. Custom jewelry offers the opportunity to transform your sentimental pieces in everyday wear accessories.
Want to start your own jewelry family heirloom tradition?
What if you wish to create your own heirloom? Jewelry is a perfect choice. If you buy a piece wisely, it can be worn and enjoyed forever. Some classic heirloom jewelry items are diamond rings, pearls, and tennis bracelets.
If you want a gemstone, the Big Five Gems – diamonds, rubies, sapphires, emeralds, and tanzanite – provide the most financial value. In terms of durability, sapphires and rubies are the best due to their almost diamond-like hardness.
What's more, birthstones symbolize the month you were born, or you can find a symbolic anniversary gemstone gift to commemorate your years together.
How is heirloom jewelry crafted?
To class a piece of jewelry as an heirloom, it must be created by a skilled and reputable jeweler.
Metalwork and stone-setting are particularly important. The ring bands and gemstone settings must be cut, coaxed, filed, and polished into shape. It is a long, creative process.
Eternity rings are a good example of this, as they are very complex rings to set. The diamonds or gemstones that go all the way around the band must be measured exactly, so they fit perfectly side by side around the band with no gaps. As you can imagine, the diamond setter cannot overlap stones at the end if he gets the measurements wrong! Only the most beautiful and lasting ones can be handcrafted by the most skilled jewelers.
Did you know that we have more than a thousand jewelers registered in our network? Take a peek at our website to connect with the most skilled jewelers all around the US to create your own customized family heirloom jewelry pieces and start a beautiful family tradition.