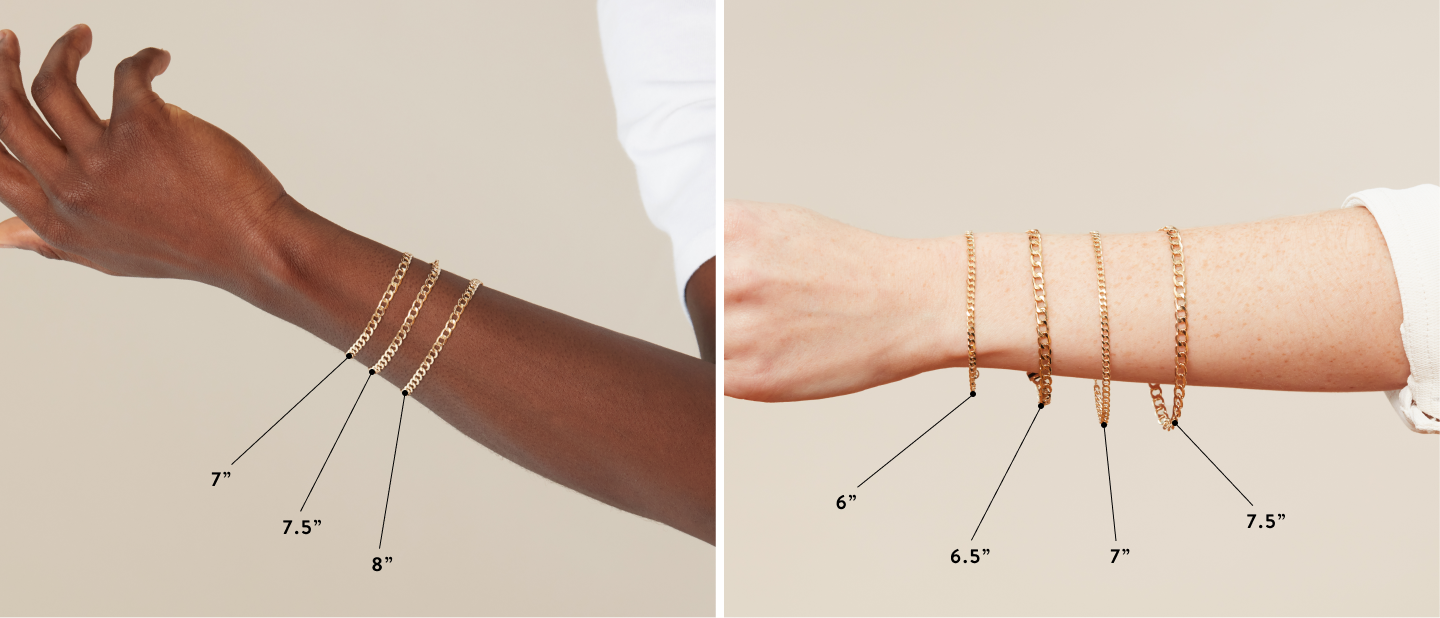 Bracelet Size Guide
(Everything You Need To Know)
Bracelet sizing is essential because how appealing the jewelry will look on you depends on how well it fits. There are different bracelet types, and some have clasps that make the size adjustable, and others have links that you can remove for a smaller size.
Your correct bracelet size will depend on the bracelet type because each type comes with its specific size recommendations and allowance for simple adjustments.
Not sure of your bracelet size? Or maybe you know your size already but need more information; this guide will help you find your perfect bracelet size.
Standard bracelet sizes for women, children, and men
The industry standard bracelet size for women is generally between 7 inches and 7.5 inches (18 to 19 cm), with 7 inches being the most common in women's jewelry. This bracelet size will sit nicely between the wrist bone and the base of the hand.
The standard size for men is usually between 7.5 inches and 9 inches, 8 inches being the most common length.
Babies and toddlers tend to wear bracelets between 4 to 5 inches (10.1 to 12.7 cm) in length, and older kids have a general bracelet length of 5.5 to 6 inches (14 to 15.3 cm).
Standard bracelet size for women
Some wrist sizes differ from the standard sizes, and women's bracelet sizes are categorized below.
Check the chart below to learn your bracelet size, and if you are between sizes, we recommend that you go for the bigger size.
Bracelet sizing chart for women
Standard bracelet size for children
Follow the chart below for a guide to select a perfect fit bracelet for children of all age ranges.
Remember never to leave children and toddlers wearing any form of jewelry unsupervised.
Bracelet sizing chart for children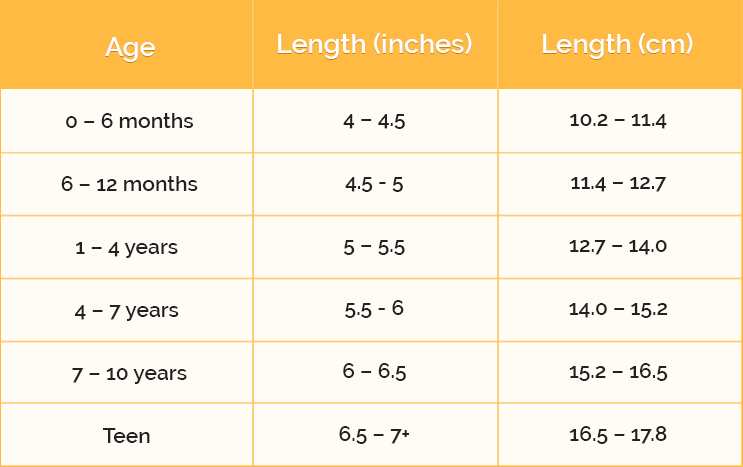 Standard bracelet size for men
For men's bracelets that fit correctly, follow the chart below for the different sizes.
Bracelet sizing chart for men
Custom bracelet sizing
It is crucial to confirm the correct size of your wrist before placing a custom order to avoid any form of error. Measurements may be taken by an in-store professional or by yourself at home with a standard measuring tape.
Also, specific bracelet designs without clasps, including bangles, must fit the widest part of your hand and should be measured for such designs.
Note that custom bracelets are costlier than the standard designs because of the custom work and other materials like additional metals and gemstones needed for the production.
How to determine your bracelet size
The steps below will guide you through measuring your wrist size and determining your corresponding bracelet size:
Use a flexible measuring tape; if you don't have one, a piece of paper, ribbon, or cord will suffice. Wrap it tightly around the spot where you would wear the bracelet (or at the wrist bone).
If you are using paper, ribbon, or cord, mark the spot where the two ends meet with a pen or pencil.
Measure the length with a ruler. This is your wrist size and not your bracelet size. Add approximately ¼ to 1 inch to get your estimated wrist size.
To get your bracelet size, refer to the bracelet size conversion chart below.
Bracelet size conversion chart 
The bracelet size conversion chart below will help you determine your bracelet size accurately.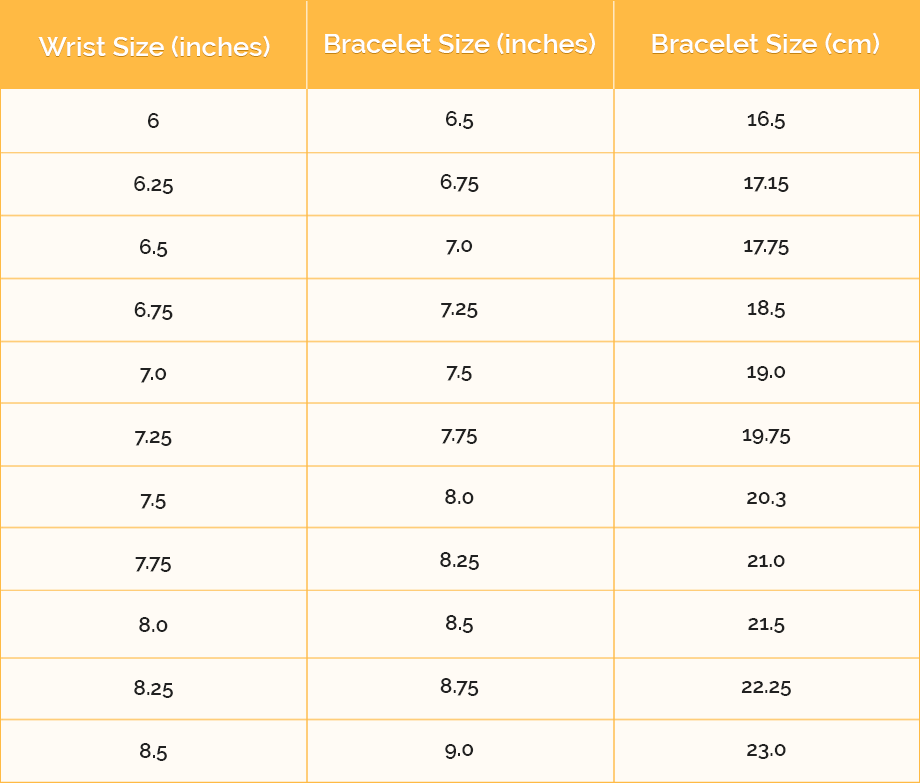 How to determine your bangle size
The size of your hand and not your wrist determines your bangle size. The steps below will guide you through measuring your bangle size accurately.
You will need either a measuring tape, a piece of paper or thread, and a ruler:
Close your fingers, and bring your thumb and little finger together like you are wearing a bangle.
Take a piece of paper or tape measurements and wrap it around the widest part of your hand.
Mark where the two points meet with a pen or pencil.
Use a ruler to measure the length, and this is your hand's circumference.
Refer to the bangle sizing chart below and compare your hand circumference for the corresponding bangle size.
Bangle sizing chart
Check out our bangle sizing guide (link to article) for more details on bangle sizes.
Bracelet fitting style
Deciding how you like to wear your bracelets will help you measure your wrist more accurately, and this will vary based on the individual.
For example, if you want your bracelet to be snug or tight on your wrist, you will add less than ¼ of an inch to your wrist measurement for the best fit. The more you add to the size, the looser your bracelet will be. If you don't want to feel uncomfortable or like you are suffocating your wrists, we suggest getting a loose fit.
Follow the guide below for measurements of different bracelet fitting styles.
Conclusion
Now you should have all you need to know about bracelet and bangles sizing. You can easily publish your custom bracelet request for yourself and your loved ones.
If you still have some difficulty choosing an appropriate bracelet design, please contact us.