When it comes to wedding rings, there are a lot of questions that need to be answered. Who buys the groom's ring? What style should it be? How much should you spend on it? In this blog post, we will answer the question of who buys the groom's ring. Keep reading for more information!
Let's dive into some wedding ring history.
We all know that after the proposal, the bride's engagement ring is the main focus of attention.
Everyone gets curious about the shiny diamond and tends to forget all about wedding rings. Maybe this is because most of them are usually plain bands of gold or silver. However, wedding rings are actually considerably more significant than engagement rings.
Wedding rings are a symbol of eternal love and commitment. They are the physical embodiment of the vows that you make to each other on your wedding day. And unlike engagement rings, which can be taken off, wedding rings are meant to be worn forever. However, it's thought that the custom of men wearing wedding rings didn't start until the middle of the 20th century.
The tradition of exchanging wedding rings extends back thousands of years, when it was adopted by the Ancient Egyptian, Greek, and Roman societies. As time passed, wedding ceremonies from various civilizations began to include their particular wedding ring customs. For instance, in the 16th and 17th centuries, gimmel rings with two or three hoops were frequently used.
Until the twentieth century, only wives received and wore wedding bands. The custom of the groom wearing a wedding ring is thought to have started during the Second World War in the 1940s.
The tradition of dual rings was created by soldiers as a way to remember their wives when it was time to go to war. Following that, the practice of wearing two wedding rings quickly became popular everywhere, starting this way the early wedding industry.
So, who buys the groom's ring?
Traditionally, it was the bride's father who would purchase the groom's ring. However, nowadays it is more common for couples to split the cost of their wedding rings or for the groom to pay for his own ring.
The traditional approach
In Western tradition, the responsibility of organizing the wedding has always been assigned to the bride's side of the family. The bride's parents also have a say in all important decisions because they will be paying for a considerable part of the wedding.
The groom's parents, on the other hand, would contribute on some level, whether it was for the catering service, the flowers, or anything similar.
But this tradition began to vanish as weddings getting more and more expensive. It is still the standard practice in several upper-middle-class families.
According to tradition, the other side is expected to pay for the wedding rings. Traditionally, the bride or the bride's parents are expected to purchase the wedding band for the groom. The bride's wedding band, on the other hand, is the groom's responsibility. Wedding rings are viewed in this sense as gifts that the bride and groom give to one another.
The bride and groom not only purchase wedding bands for one another but also choose them on their own. According to some traditions, they should put their rings on the minute they see them for the first time. The two rings may not match at all as a result, though some couples may not care about this. What matters is the element of surprise.
In some cultures, the groom is expected to purchase both wedding rings. Then he might choose one for himself and give the other as a gift to the bride.
The contemporary approach
Today, the bride and groom are solely responsible for making the decision to purchase wedding rings. While they can follow tradition and purchase wedding bands for one another, they also have the option to go wedding ring shopping together and choose any style they prefer.
This largely depends on the financial situation of the bride and groom. It only makes sense for them to split the cost of the wedding rings if they already share a home and bank account (and the entire wedding as well). If one partner earns more money than the other, he or she may pay for both wedding bands.
Some brides-to-be like to have a say in all decisions, even choosing the engagement ring. Even though the tradition of getting down on one knee and proposing has changed, it still has a lot of meaning.
When a bride plans to wear her wedding ring and engagement ring on the same finger, she naturally wants them to match. Because of this, matching wedding rings have recently gained a lot of popularity.
The wedding bands that some couples choose to wear can be customized in many ways. For instance, some wedding bands allow for the engraving of one or two words, a symbol, or a date on the inside.
Most men prefer to visit a jewelry shop and try on various options because they aren't used to wearing rings every day. The wedding band for the groom must therefore be pleasant to wear every day.
Depending on the kind of ring the couple ultimately decides on, the cost of the wedding bands may vary. Contrary to popular belief, men's wedding bands may not be as affordable as women's wedding bands since they are bigger and thicker.
Buying advice for the groom's wedding ring
Wedding planning is by no means an easy task. There are many things to take into account, including the venue, the catering company, the cake, the flower arrangements, the guest list, and a million other issues.
When it comes time to choose the rings, all this preparation may cause time restrictions. Fortunately, creating wedding bands takes less time than creating engagement rings.
You've come to the right place if you want to buy your fiancé a wedding ring but aren't sure where to begin. Most people believe that wedding bands must be dull and often made of just one type of metal. This is particularly true of men's wedding bands. But there are many alternative metals you can choose from.
Also, there are many features that may be added to your fiancé's wedding ring to make it stand out from the crowd. Here are some things to think about whether you're going to buy your fiancé a wedding ring on your own or in a joint effort: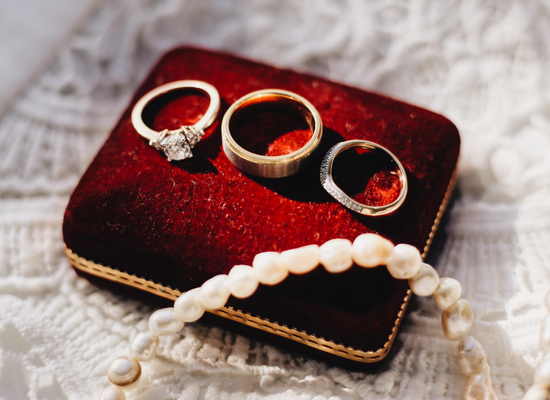 Wedding band metal type
One of the first considerations should be the metal used for your fiancé's wedding ring. White gold or yellow gold and sterling silver have historically been the two most common metals for wedding bands. When it comes to gold, you have three options: yellow, white, and rose gold.
Metal choices are also worth considering as some are more durable than others. It is currently listed that Tungsten, Ceramic, and Titanium are four of the strongest metals for wedding bands.
Tungsten wedding bands
For guys who enjoy wearing a heavy, thick ring on their hands, tungsten wedding bands are perfect. Men who work with their hands like the durability of tungsten, which, unlike softer precious metals like gold and silver, resists tarnish and scratches.
Due to its extreme toughness, tungsten does not bend, keeping its shape reliably in the event of an accident. It's also a good option for people who have allergic responses to gold.
Tungsten rings can be customized or embellished with colored inlays to create a stunning fashion statement. One caution though: tungsten cannot be resized, unlike gold, so picking the proper size is essential.
Titanium wedding bands
As one of the strongest metals known to man, titanium is a great option for a man's wedding band. Because titanium is much lighter than tungsten, wearing a titanium ring feels elegant. It's also a wonderful option for people with sensitive skin, just like tungsten.
With titanium wedding rings, you may select from a variety of textures and polished finishes, and its neutral color gives an attractive, subtle aesthetic.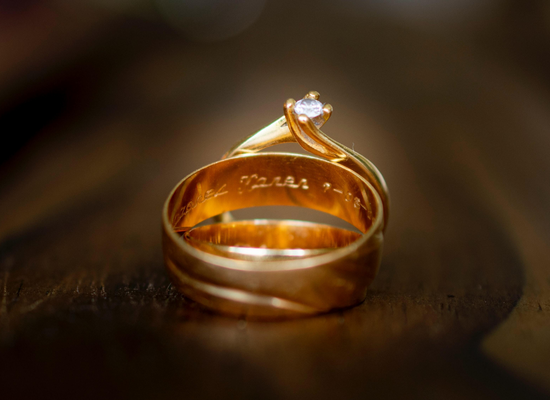 Ceramic wedding bands
Ceramic wedding rings are a good option for grooms on a budget who want an unique look. When you hear "ceramic," don't picture your grandmother's china. These rings are actually far more scratch-resistant than stainless steel and extremely durable.
Since ceramic bands are lightweight and sometimes have curved or beveled edges, many men find them to be very comfortable to wear. With ceramic, you also have a wide range of stylistic possibilities because you may customize the design of these bands by adding eye-catching inlays.
Once you've found the right groom's wedding ring to fit your sense of style and your lifestyle, we're happy to help you create the wedding band of your dreams.
At JewelersConnect.com you can consult with high-skilled jewelers to help you build the perfect piece.
Wedding band style
There are a surprisingly large number of options available when it comes to wedding ring styles and designs. Prior to now, the only wedding bands available were plain ones made of gold or silver with no further embellishments or decorations. There are a lot more possibilities available nowadays and lots of styles to choose from.
The classic court-shaped ring is always a safe option when it comes to shape. This design features softly rounded edges on both the inside and outside of the ring. Another popular ring shape is the D-shaped ring, which has a flat profile on the inside and a dome shape on the exterior.
Flat wedding bands are currently in style. These rings tend to get stuck on clothing since they are flat on both the inside and outside of the ring. The flat court type is for you if you desire a ring that is flat on the outside and round on the inside.
Ring size
Always try on rings before purchasing them. This step may be challenging if your goal is to surprise your fiancé with a wedding band. Male wedding bands typically range in width from 5mm to 7mm. It's best to pick a thin ring for your fiancé if he has slimmer fingers. If not, it will just look chunky.
Your fingers are prone to changing sizes over the day, so keep that in mind as well. For example, in warm weather, they often swell. Because of this, it's generally advisable to try on rings at least a few times before making a purchase (if you can, of course).
The last finishing touches
It is totally up to you whether you want your engagement ring or your fiancé's ring polished. You have a few finishing options, including high polish, matte, a mix of high polish and matte, and hammered finish. Your decision should be based on whether you like a matte finish that reduces reflection or a sparkling coat for your ring.
Your wedding band can be enhanced with additional features to make it more unique. One of the finest methods to do this is using engravings. Either the inside or the exterior of your ring can be engraved. Some couples like to pick a date that holds special value for them, such as a word or a symbol.
The width of the wedding band can also be embellished with diamonds or other gemstones. You can add a lot of additional details to your wedding band to add your personal style. Since it takes time to make these upgrades, you should order your ring earlier than anticipated if you want it to have special features added.
Conclusion
The decision about who will buy the groom's wedding ring should depend on what the bride and groom want. According to tradition, the bride should buy the groom's wedding ring. However, there is no reason why wedding ring shopping shouldn't be something you do together. There are a lot of decisions to make when it comes to wedding rings. But, in the end, it is your decision and no one else's.
JewelersConnect.com offers the opportunity to connect to high skilled jewelers and create exceptional custom wedding bands at an affordable price. This means that you're sure to find the perfect ring for your fiancé.
We hope this blog post has helped to answer the question of who buys the groom's ring. If you have any further questions, please don't hesitate to contact us! We would be more than happy to help. Thank you for reading!