The right way to pick a necklace is to consider the length and style. The average necklace length is around 14 inches. However, it can go up to 42 inches, depending on the style of the necklace. When looking for a new necklace, the first thing you should do is to figure out what type of necklaces you like the best.
With that said, it can be challenging to pick the right necklace. There are so many different types, shapes, and materials that it's hard to know which one is the best! You want something that will go with your outfit, but you also need to make sure it matches your personality and style.
Do you prefer delicate pieces or bold statement pieces? Do you like long chains or short ones? Once you have figured that out, then it's time to start shopping!
The right necklace can be the perfect accessory to complete your outfit. It can also be a symbol that you are wearing, show off what you care about, or just make you feel good!
This post goes over different ways of picking out a necklace so that it's more likely to be something you like.
Let's get started with the considerations.
Choose the right necklace length
The first thing you need to consider when picking a necklace is the length.
Most necklaces are between 14 and 42 inches long. The right necklace should accentuate your neckline but not look matronly or childish.
14 inches is perfect for open neck clothing
16 inches is the most versatile length
18 to 24-inch necklace" is a good place to start if you are wearing more dressy attire. You can also wear the longer ones with casual outfits, but they may not look right under t-shirts or other tight-fitting clothes.
32+ inches looks great when layered with a shorter neck
You need to make sure the length is perfect for your style and personality! You want something that will go with your outfit, but you also need to make sure it matches your personality and style!
Here's a detailed necklace length guide and their corresponding attires.
Standard Necklace Length Guide for Women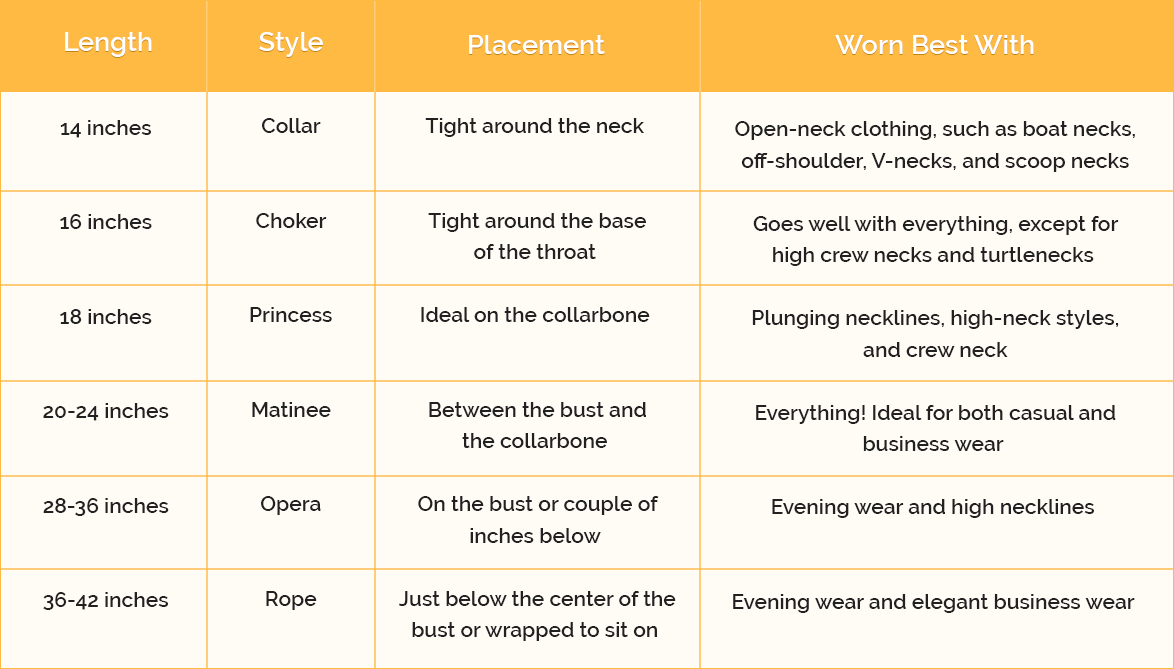 Pick a necklace that matches your physical features
Now that you have a clear idea of your perfect necklace length, let's look at the different styles of necklaces. You want something that will go with your outfit, but you also need to make sure it matches your personality, style, and body!
Petite women should wear shorter and wider pendants because they tend to be bigger-boned than their taller counterparts. This doesn't mean that petite women can't wear long chains; it just means that short ones would probably fit them better.
We suggest wearing something between 14 and 18 inches long for ladies who are above average height. Anything over 32+inches is great for adding interest to casual outfits but isn't ideal for formal events when paired with a ball gown, etc.
Anything between 18 and 22 inches long would be perfect for taller women. Taller or bigger boned women might prefer longer chains because smaller pieces may not lie right on their chests due to larger breasts (or other physical attributes).However, taller women should avoid wearing longer necklaces that drag along the ground since it will make them look even taller than what they already are.
More petite women might prefer shorter necklaces because they can draw attention to their chests and give the illusion of having a larger frame. The same rule applies here as with petite women; it certainly won't hurt if you want something longer!
Heart shapes generally do well with short women, especially if they're pear-shaped. The peachy shape of the heart is also complimented well by chunky necklaces or other jewelry that can draw attention to the chest area!
Oval-shaped faces look good in all lengths, but smaller pieces will suit these ladies best. A delicate necklace is also gorgeous on people who have an oval face shape or are pear-shaped (meaning they are wide at the top).
A wider pendant isn't necessarily bad for this type of person, but there's no need to wear anything too big either!
Round faces look great in all lengths because it gives them an illusion of having a more angular jawline and chin. A bigger pendant looks good on women with this face shape as long as it isn't too big for their frame. The same goes for any type of necklace! Anything from 16 inches or longer will suit round-faced ladies just fine.
Square-shaped people have robust features, so anything around 18+inches would be ideal. Bigger pieces do not go amiss either, but you should try to wear something delicate alongside your statement necklace. However, a shorter style helps in softening the angles. This will give you a nice contrast!
Choose the right style for the occasion
Necklaces come in practically all shapes and sizes. You have a necklace for every occasion, style, and budget.  Here are some popular necklace styles for women.
1. Statement necklaces
Statement necklaces can give any outfit instant glamour and edge. If you're looking to enhance a casual ensemble, a statement necklace is your best bet.
It's also great for formal occasions when paired with something more understated, like a little black dress or simple gown. This way, you won't come across as too loud or flashy!
A statement necklace would be perfect on just about anyone, but it might not suit pear-shaped ladies well because it draws attention away from their chests.
You could still wear one if that suits your style, though. Just make sure everything else balances out nicely (don't wear a statement necklace if you have a bigger pendant, for example).
Statement necklaces are generally either chunky or thin. The former is ideal for ladies with round faces because it gives them an angular jawline and chin—even the point of their face gets emphasized!
Women with more delicate features look great in smaller styles since they will draw attention to their chests without being overwhelming.
2. Chunky necklaces
A chunky necklace is the best for pear-shaped ladies because it can give them a more hourglass figure. It's perfect if you want a gentle highlight on your chest area, and it also draws attention away from your hips without making you look too big at the top of your frame.
If you're going through some weight loss, this is an ideal style that will complement any outfit nicely! Also consider chunky necklaces if you have long hair—it makes everything feel fuller and more voluminous.
3. Long necklaces
If we had to pick one absolute favorite, it would be this one!
Long necklaces are ideal for women of all shapes and sizes. They can add instant drama to your outfit, no matter how plain or boring the rest of your ensemble might look!
The length gives you a nice break from any other pieces, so if you want to go with something bigger, try wearing two statement necklaces instead. It's still dramatic but doesn't overwhelm at the same time.
A long necklace works really well when paired with an open-back dress. Not only does it make everything look more elegant, but it also hides any problem areas that you may have (if anything). You don't even need big breasts – even flat-chested women can get away with this look!
4. Pearl necklace
The most classic option of them all, the pearl necklace, is simply elegant. It's perfect for formal occasions like weddings or fundraisers, and other events, but it can also be worn casually – just not at the same time with a ball gown, please.
You'll often find yourself reaching for this piece, so keep several in different colors because you never know when one will come in handy!
5. Chains and Lariat necklaces
Chains are always chunky no matter what length they're made out of, while lariats tend to be long and thin! They're more feminine pieces, so they work best for women who want delicate features.
Since these are mostly statement necklaces, don't wear any other jewelry with them – one piece of this accessory is enough to get noticed.
Pretty much anything goes when it comes to chains because you can layer them over just about anything, but lariats need a little bit more thought (for the most part, at least!).
Keep your outfit simple and let this style do all the talking. Otherwise, things might look exaggerated rather than overly stylish.
It's always better to rock an understated outfit if you have something extraordinary up your sleeve.
Conclusion
Your necklace should be long enough to accentuate your neckline but not so long as to look matronly or childish. A pendant with some weight is ideal for those who prefer an understated statement of beauty.
When picking a necklace, consider the necklace length, body features, and occasion. By narrowing your search down early on, it'll be much easier to pick out something you like!
Jewelers Connect is the most trusted destination to keep your bracelet requirements on top priority and deliver premium quality pieces.
When you post your project on the platform, you will receive competitive offers. You can then hire a skilled and trusted jeweler who will make top-notch adornment within your budget; that too at the comfort of your home.
Get started on Jewelers Connect right now to get the latest custom handcrafted jewelry to match your style. Enjoy shopping!