The jewelry industry is projected to reach 292 billion dollars in 2025. After all, everyone loves a piece of jewelry
An online jewelry-making business requires solid market research, pricing strategy, and marketing tactics. You also need to learn basic jewelry-making techniques and develop a unique brand aesthetic to attract your customers.
So you want to start your jewelry business?
Read our guide below to understand how you can start your very own jewelry-making business and run it from your home.
1. Do some market research
Before you can start doing anything, it is crucial to do market research. You need to understand the potential of starting an online business in your locality, the top competitors, and what the customers love.
You can do this by searching for jewelry stores on Facebook and Instagram. You can ask your friends and family members about the stores they shop from. It will allow you to identify your competitors and evaluate their strategies.
You should also search the most common jewelry trends to identify the types of jewelry people like. Although trends are subject to change, it is essential to keep track of them from day one.
Once you have understood what others are doing, then identify your unique selling point.
The jewelry market is very saturated, with both online and physical stores running competitively. However, there is always space for better businesses, providing a fresh perspective to the industry.
Therefore, it is imperative to consider what you would be doing differently and why people should buy from your brand instead of others.
Are you going to sell high-end jewelry? Or something fine and delicate?
There are tons of jewelry categories with their materials, production process, customer profiles, and price points. Here's an overview of some of the categories:
Fine (High-end) Jewelry
• They are created using semi-precious and precious metals.
• Made through a very delicate and fine process.
• High price.
• Used for special or luxurious occasions like weddings.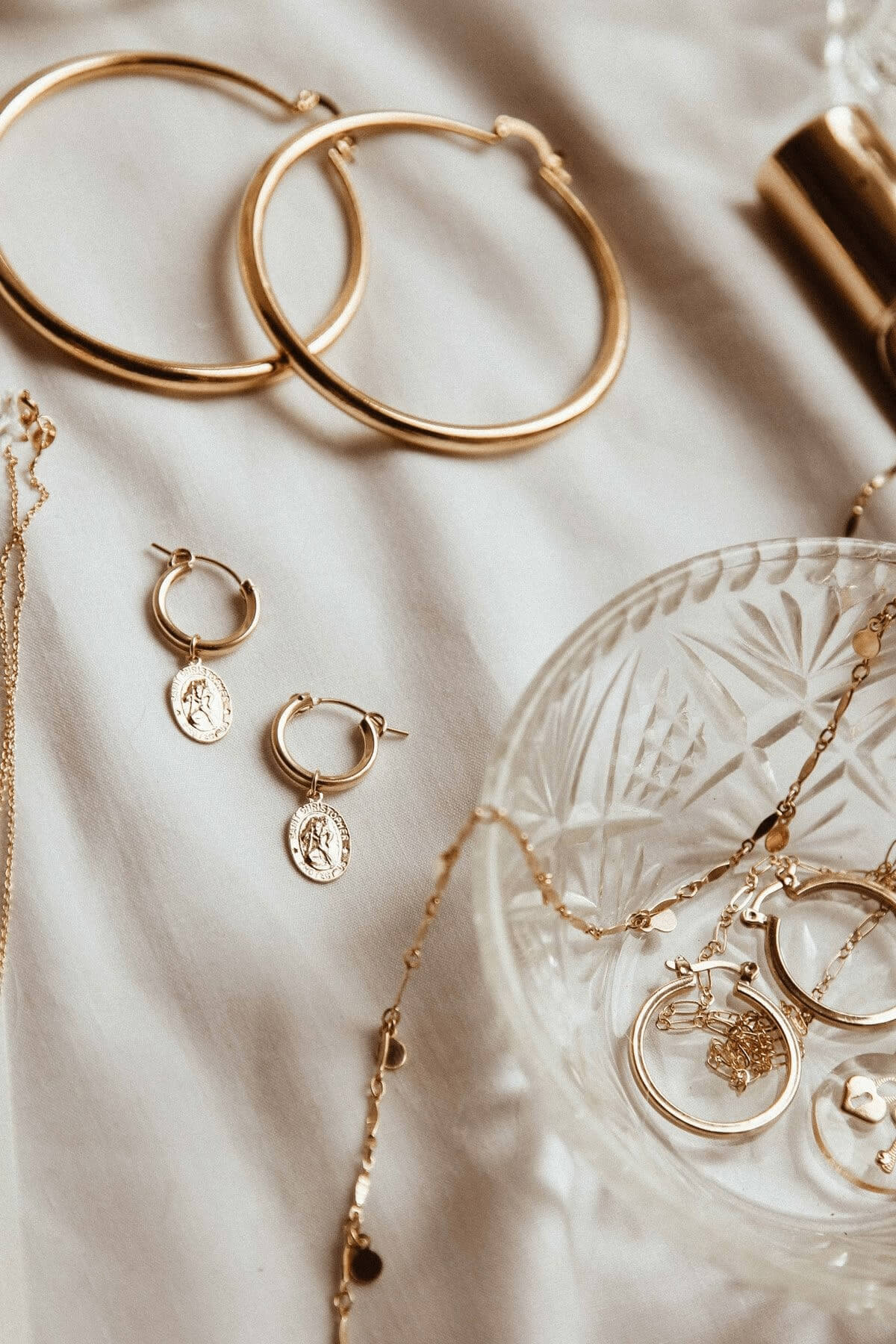 Fashion jewelry
• Trendy and funky jewelry made with inexpensive materials such as wire, beads, and synthetic gems.
• It can be mass-produced and have a lower price.
• Used for everyday wear.
There are also other kinds of jewelry usually made with textile and wood.
Some jewelry pieces are also categorized under artwork when businesses market them as made-to-order or collectibles. Such jewelry pieces are used by customers who are design-savvy or want to give them to someone.
When doing your market research, make sure to identify the different kinds of jewelry that sell the most in your locality so that you can target a profitable niche.
Once you have identified the type of jewelry you want to create, start defining your customer profile, such as brides, trendy teenagers, or socially conscious customers.
At the same time, try defining if your products will be ideal for specific occasions such as parties or weddings.
2. Familiarize yourself with the jewelry making process
After you have decided the kind of business you want to run, invest your time learning how to make jewelry by taking online courses or following tutorials.
Sure, it will take time to become an expert at jewelry making, but as you practice, you will be able to construct beautiful styles of bracelets, necklaces, and earrings.
1. The first step to getting started with jewelry making is to purchase jewelry-making tools.
The tools you need depend upon the type of jewelry you will be making. However, there are some basic tools that every beginner needs.
These include:
• Wire cutters
• Different kinds of pliers such as nose pliers, step jaw pliers, bent closing pliers, and chain nose pliers
• A metal runner
• Practice wire
• Pegboards
You can also purchase handmade jewelry supplies such as jump rings, beads, clasps, and closures.
2. The next step is to choose the specific metals and materials you want to work with.
Since there is such a wide variety of jewelry pieces made with different types of materials such as beads, resin, string, and wood, you need to invest in one type of jewelry at a time.
As you become an expert at working with the material, you can move onto the next one and slowly expand your product portfolio.
3. Learn how to create jewelry
The most important step is to learn basic techniques and skills for making jewelry. You can do so by reading books, searching for online tutorials, or participating in jewelry-making workshops.
But here are some steps to start with creating high-quality jewelry:
1. Making the sketch
Although some artists tend to improvise and create designs as they work, having a sketch initially is a good idea.
You can create a rough sketch of the jewelry you want to make. And if you want, you can also use computer software to create a three-dimensional jewelry mock.
Remember, the sketch needs to be in the same proportion as the actual jewelry to plan everything accordingly.
2. Create a model
The sketched design then needs to be carved into the actual model. Fabrication is a common way to create jewelry. The process involves files, pliers, and saws, used to mold the metal you are working with.
You may further use a soldering tool to mold the jewelry into your desired shape. However, this process can be quite tedious and time-consuming.
You can also create a jewelry sculpture using the jeweler's wax. The model is created according to the exact scale desired. The wax piece is then cased on a plaster-like substance.
The wax is then left to dry, and over time, it becomes rock hard. The wax will then be heated in the plaster mold, allowing a cavity to be formed.
Once the cavity has been structured, you may melt the metal and cast it inside the hole. It will take some time to cool, after which you can take the metal out of the cavity.
3. Polish the jewelry
Once the jewelry is created, you may use a polishing agent to clean and polish the piece. It's essential to remove any tool marks that might have occurred when making it.
4. Set the stones
After polishing the jewelry, you may place any gemstones or jewels that you want on the piece. This process requires a lot of precision.
You should polish the jewelry once again before finally packing it and sending it off to your beloved customer.
4. Price your jewelry
One of the most challenging tasks to do is pricing your jewelry. How can you ensure that you earn a decent profit without making your jewelry extremely expensive for the targeted audience?
A general rule of thumb is to fix the cost four times the total packaging and material cost. This will prevent you from losing the money or working for free.
But when fixing the price, you should also think about how much you will be charging the customers for shipping. Will your customers abandon their cart while checking out when the shipping charges are added?
What about refunds? Will you fix the jewelry as well if it breaks before reaching the customers? All of these questions are important to consider before setting a price.
5. Pick a creative name
With so many businesses out there, how can you stand out among the crowd? This is where a creative name comes into the place. Your business name should be in line with its purpose and mission.
Not only should it be unique, but it should also be easy enough for people to remember and understand it.
Make sure that the business name is not trademarked with any other venture or organization. You can do so by googling the name online and see what comes up.
6. Develop a unique aesthetic for your brand
The overall aesthetic of the brand can make it or break it.
Having a unique brand identity that speaks out to the customers and showcases its value is very imperative. Developing a brand identity will also allow you to make a good brand logo, custom packaging, and marketing material.
For instance, many high-end brands use a lot of diamonds and jewels in their product photographs. On the other hand, those who sell teenagers cash on social media trends to attract the audience.
7. Devise a marketing strategy
No business is successful without a constructive marketing strategy. While the online world offers great opportunities to sell your products, it is much more difficult to be relevant in front of your target audience.
The best way to develop a marketing strategy is to identify where your target audience is located and what they like.
For instance, if your target audience uses Facebook a lot, you should use Facebook Ads to market your products.
On the other hand, if your audience shops through the web, then you should consider investing in Search Engine Optimization (SEO) to bring your website on the first page of Google.
Where to sell your jewelry?
After deciding the basic plan for your business, it's important to identify the platforms to run it. Fortunately, there are tons of places to do so. Here are some of our top picks:
The best way to develop a marketing strategy is to identify where your target audience is located and what they like.
For instance, if your target audience uses Facebook a lot, you should use Facebook Ads to market your products.
On the other hand, if your audience shops through the web, then you should consider investing in Search Engine Optimization (SEO) to bring your website on the first page of Google.
1. Jewelers Connect
Are you looking to work directly with the customers without setting up your website? Then, Jewelers Connect is the platform you need to choose.
At Jewelers Connect, customers can start their own jewelry making or repairing projects. Then you can bid for the projects, converse with the customers, and win the project.
The best part of this platform is choosing the projects you want to work on and creating a loyal customer base.
Other bidders will not be able to see your bid, which means you can compete with others based on your skillset and not the price.
2.Etsy
Etsy is one of the most popular places for the arts and crafts retail industry. With over 20 million active buyers, Etsy is a great place to showcase your talent and sell customized jewelry.
The eCommerce store is incredibly lucrative if you sell something unique and stand out in the industry.
However, you have to pay a 5% transaction fee plus another fee for listing each item.
3.Amazon Handmade
Launched in 2015, the Amazon Handmade has become a popularplatform among artisans and craftsmen across the country. Amazon Handmade is exclusively for handmade products such as jewelry.
It is a popular eCommerce place, attracting a decent number of customers every day. However, just like Etsy, Amazon Handmade also has a referral fee per every sale.
5 Tips to grow your jewelry business
Here are 5 tips for growing your online jewelry-making business.
1. Keep identifying new opportunities
You might invest a lot of time and effort to start your business. But once it starts making a decent amount of sales, you might stop seeking opportunities to expand it further. And this strategy has a lot of repercussions.
You should never stop exploring different avenues to increase your business. If one type of jewelry is making great sales, start working on another type to expand your portfolio. If there is a particular metal in trend, try leveraging it.
2. Work on customer loyalty
A great way to develop customer loyalty is to take feedback through surveys or message requests. The analysis will help you to identify the strengths and weaknesses of your business.
It takes considerable effort to convince a customer to explore your store and buy them. And if someone prefers your products over your competition, you should try retaining them.
3. Form partnerships
Co-branding is a great way to put your business in the spotlight. Strategic partnerships with brands, influencers, or corporate companies can land you multiple clients, market your products, and showcase your business to be trustworthy.
Networking events can be a great place to look for partnerships. You can also look around in your social circle to search for possible avenues of collaboration.
4. Be adaptable
Businesses that fail to respond to the changes in the market often lose the race. An agile business development strategy is all that you need to stay in line with the market trends and grow your business.
5.Do the right hiring
Over time, you might want to hire someone to help you with the business. Ensure you know the kind of talent and skills you need before you can roll out the recruitment forms.
Businesses need people that are in line with their vision and mission. Therefore, you should take extra time to make the right choice.
Conclusion
Jewelry making is one of the most profitable businesses you can do today. Whether you want to create high-end engagement rings or sell trendy bracelets to teenagers, the industry has a lot of space for a new business.
So first, conduct market research, identify your jewelry niche, learn jewelry-making techniques, and start your online store. You should also take time to create an elaborative business marketing strategy to target the right customer base. Good luck!