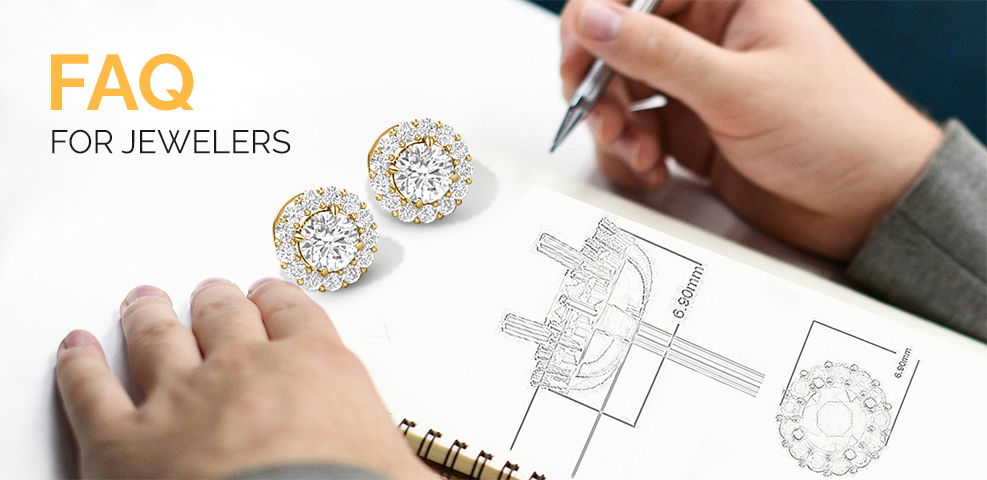 FAQ
What type of jewelry can I sell on Jewelers connect?
On Jewelers Connect, you can sell all types of jewelry ranging from rings, pendants, earrings, necklaces, watches, bracelets, etc. These options can come in the form of personalized jewelry for men and women. Also, you can sell custom anniversary jewelry for couples who are engaged or looking to get married or celebrate a special day.
You can sell jewelry of different metal types such as silver, platinum, or gold and any attractive stone piece like diamond, emerald, moonstone, ruby, sapphire, etc.
How much does it cost to sell on a platform?
Jewelers Connect offers a post sale payment service to jewelers.
This service comes in three options:
Bronze Plan: A free platform usage with an 8% commission after every sale.
Silver Plan: A $75 monthly fee with a 6% commission on sales
Gold Plan:A $100 monthly fee with a 5% commission on sales.
As a jeweler, you have the freedom to give your desired quote for every jewelry sale or project you intend to work on.
What will I need to become a seller?
To become a seller on Jewelers Connect, all you need to do is register and provide the necessary details, which are: your legal business name, your legal business email, address, password, and your phone number. We will help you get a merchant account to receive payments.
After registration, Jewelers Board of Trade will pull a business report on you and a background check will be performed to ensure you are in fact a jeweler. This processes can take up to 72 hours. After completion you become a jeweler and partner on Jewelers Connect, and you will be granted all the tools you need to succeed.
How will I get paid?
When you are selected for a job you will send an electronic invoice to the purchaser. The invoice is automatically linked to your merchant account and will direct the purchaser to pay you. Once payment is made then you can proceed with your project.
Can I ship jewelry internationally?
Our shipping partner is JM Shipping by Jewelers Mutual. At this time shipping is available for Domestic only. However, if you wish to work with someone outside the US, you can provide your own label but ensure to include your tracking information for your client.
How do I track my jewelry orders?
You can track your jewelry order by checking the status of a successful transaction on our website. Jewelers Connect provides information regarding the shipping status and point-to-point destination of your jewelry order.
When your order is shipped, you'll receive a confirmation email. It will contain important details such as; Order Number, Email, and Billing/Zip code information. Most importantly, you'll find your tracking number and ID.
If you need to check your order status, log in to your account and click "Orders." On this page you will locate your project to view tracking details.
How can I contact Jewelers connect?
You can find us on Facebook, Twitter, YouTube, Instagram, and Pinterest.
You can also email us at contact@jewelersconnect.com.
Or give us a call on +1 (844) 406-1445.
You can also connect with the 24/7 Jewelry Concierge and support team through the chatbot at the bottom right corner of the page.
Create an account right away and send your first quote!