You love your original engagement ring as it is a beautiful sign of the affection you share and your devotion to getting married. Yet sometimes, a little change is desirable. It's pretty common to desire to upgrade your engagement ring at some time in your life. As years roll by, choices and finances can vary, enhancing the allure of an upgraded ring.
We are here to assist you, whatever your motives or desire to upgrade your engagement ring or your doubts concerning the process. We've provided a brief guide here on how to upgrade your engagement ring.
Considerations for Upgrading Your Engagement Ring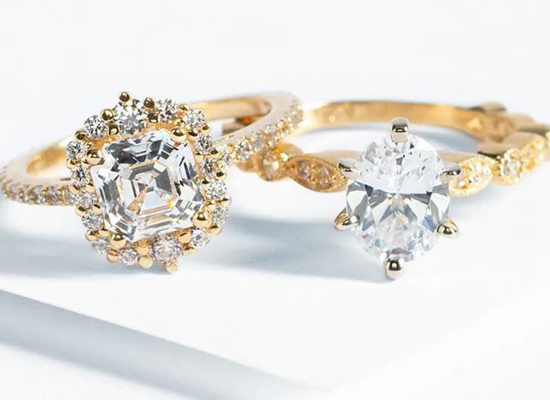 Want to upgrade your engagement ring? Below are a few basic measures to think about before initiating the upgrade process.
Discuss With Your Spouse:
The very first measure you should take if you believe you want to upgrade your engagement ring is to discuss it with your spouse. Though some partners will be excited at the idea of an upgraded ring, others might feel a bit weird regarding it for several reasons. For instance, possibly they have an emotional attachment to the original ring as they spent a great deal of time selecting it for you. Irrespective of whether you feel your spouse will be receptive to the idea of an upgrade, you should first discuss it with them. Engagement rings are emblems of your bonding and relationship as a couple. Getting through an upgrade process without your spouse being aware or willing can simply hurt their sentiments so it is courteous to stay until your spouse is completely satisfied with the upgrade process.
Give Your Style Enough Thought:
Spend a while thinking about what style you want out of your new ring if you wish to upgrade your engagement ring. Concentrating on the features of your existing engagement ring that you no longer admire is a good way to begin when determining what you desire in an upgraded ring. As you recognize the drawbacks of your existing ring's style, you might search for new stones and/or ring parameters that address those shortcomings.
Consult a Jeweler to Evaluate Your Ring:
To optimize the upgrading budget, clients usually prefer to allocate the value of their existing ring to the upgrading. Similarly, if they're only upgrading their stone, they simply adjust the value of their existing diamond. If it relates to you, consult a jeweler to evaluate your original ring or stone for its value before considering new rings seriously.
Define Your Budget For The Upgrade:
Determine your upgrade budget once your original ring has been evaluated. You may include the sale price of your existing ring if you intend to sell it as a whole or in parts when setting up your upgrade budget. The perfect budget proposal for your upgrade will ultimately depend greatly on you.
Ring Repair and Cleaning:
If you want to give a new look to your engagement ring, but your upgrade budget is on the smaller side, here's a tip: simply go for the ring repair and cleaning process. You can consult your jeweler to carry out ring repair and cleaning procedures such as remounting, resizing, stone setting or replacement, polishing, as well as soldering or welding techniques. Ring repair and cleaning is the simplest method to upgrade your engagement ring, which can make your old ring appear new and lustrous.
Six Unique Ideas to Upgrade Your Engagement Ring
There are countless ways to upgrade your engagement ring, varying from preserving your original diamond to completely upgrading it. Here are some unique ideas you can choose to upgrade your engagement ring.
Convert to Double Halo:
A double halo is better than a single halo.  Even though this particular style of engagement ring has a unique, classic vibe, it is certainly a consistent pattern for upgrades these days. To make your engagement ring stand out far more, use colored diamonds or gems to make one of these halos. The extra halo accentuates the sparkle of the central diamond and makes the overall diamond ring appear bigger on your finger.
Get a Splash of Color:
Wishing to get a splash of color on your ring, there are two ways to enhance your engagement ring for her. Typically, brightly colored gems have been a simple way to introduce some vibrant color to your ring. The vivid colors of rubies, sapphires, and emeralds offer your ring an entirely new and unique look, highlighting the brilliant color of your center diamond.
When thinking about upgrading ring repair and cleaning, changing the color of the metal is another approach to gently add some color. Picking a rose gold ring with additional stones seems to be a good change from your old white gold ring.
Add Diamonds to Get a Three-Stone Ring:
You have spent a long time adoring your beautiful diamond ring, but gradually the central diamond seems to appear a bit lonely. By changing your engagement ring into a three-stone ring, you can get additional dazzling accomplices for your central diamond.
Classical round-cut diamonds draw more attention to your central diamond and enhance your ring's ultimate sparkle. Adding fancy-shaped stones, like pear-shaped diamonds provides your engagement ring with an entirely distinctive style.
Add Some Sparkle to Your Engagement Rings for Him:
If you desired to upgrade your engagement ring delicately and effectively, upgrade to a two-row sparkling cluster diamond ring for him rather than a single cluster diamond engagement ring. The overall effect is outstanding while sustaining a classic appearance without being obtrusive.
Reconfiguring the simple engagement ring for him with a "V" French-set ring seems to be another preferred choice for an elegant and classy look. This method offers more sparkle to your center stone and the encircling diamonds, enhancing their dazzle.
Put on Additional Diamond Bands to Engagement Rings for Her:
If you desire a further upgrade but still adore the brilliance of your halo diamond engagement ring, consider swapping to a ring with a diamond halo and even more sets of diamonds on the ring.
Your ring will not just make an even greater impact in terms of beauty and design, but you can keep the charm of your original engagement ring so that you will always remember your engagement day.
Dome Your Center Stone with Surprise Diamonds:
The diamonds all around the band of your engagement ring don't have to be the final stunning aspect. Engagement rings for her having surprise diamonds, often known as peekaboo diamonds, which are diamonds that are visible from multiple angles but cannot be noticed when looking down at your engagement ring. We like hidden surprise gems as they add a special, romantic accent and boost the overall dazzle of your engagement ring.
Conclusion
There is no ideal option for each person to upgrade their engagement ring as it is a deeply personal thing. Your engagement ring is not just a symbol of your love and dedication to your relationship but also a memory of the most beautiful day of your life when you got engaged. You must choose an upgrade that better suits your taste, character, and budget, and you'll receive a beautiful engagement ring that seems to be unique for you.