Introduction
The selection of jewelry is quite personalized, just like art. It's exciting to be an individual with your sense of fashion and style even though not everyone agrees on what is considered to be attractive, trendy, or suitable. Whether or not you like to keep up with the latest trends in jewelry, one thing is certain: trends at least have an impact on the types of jewelry that the vast majority of people find appealing at any specified moment. We believe it is worth keeping an eye on them while still being aware of your distinct personality and fashion sense. Although we don't recommend becoming fashion slaves, having new thoughts and ideas for your outfit and jewelry collection is always a good idea.
Jewelry is one of the most important things to enhance your looks and your outfits. Different accessories were worn to convey various messages, like protection, elegance, grace, and prosperity. Many females enjoy wearing jewelry as a symbol of beauty or to reflect the social position. Jewelry has the power to boost a woman's self-esteem and appearance. It's hardly surprising that we're showing optumism with our outfits and wardrobes these days as we've spent the past few years living in casual wear and minimalist accessories. This includes jewelry. In comparison to accessories and apparel, jewelry has very little defensive functionality. Bracelets and gemstone barrettes may not be capable of keeping the cold out, but a gorgeous ornament can definitely warm the heart. These small, sentimental ornaments have a strong emotional element in addition to their inherent value.
Bold bijoux are regaining popularity in 2022, replacing zodiac jewelry, delicate chains, and multilayered strands as some of the most lasting jewelry styles. Are you curious to know jewelry trends for this year? In this article, you will find out which new styles and trends are predicted to dominate in 2022.
7 Winter Jewelry Trends in 2022
If you haven't observed, it is true that beaded jewelry has made a full comeback since the 1990s and is now becoming extremely trendy. Beaded jewelry will be the ideal choice if you want to follow the most recent fashion trends while bringing a little more luxury and flair. Beads are a fantastic way to add a hue, color, and beauty to any jewelry collection. Earrings, necklaces, bands, and bracelets, fabricated with beads are instances of beaded jewelry. Most of the beads are precious gemstones or pearls that are coupled with solid gold or sterling silver to make them more stunning and elegant. While the majority of you are dressed in warm outfits for the winter, you can wear short beaded necklaces with deeper collars or opt for bracelets or earrings.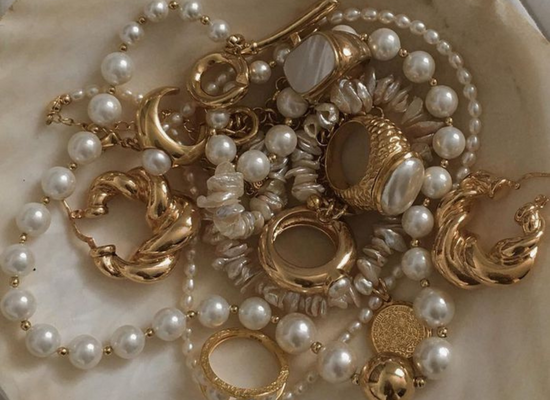 Does pearl jewelry ever go out of fashion? The immediate response is "no" If you were uncertain about pearls in today's day and time, they are definitely gaining popularity. Pearls are a timeless addition to your jewelry collection. Recently, this mermaid-inspired styling has been in trend. To stand out among the rest of the pearl-wearing population, start searching for a style like this painted strand. Pearls are super popular right now, blending both modern and classic styles as well as many modern ideas on antique pearl jewelry. Expect to see pearl jewelry such as pendants, statement rings, bracelets, earrings, and more. Pearls can enhance dull outfits for your winter wardrobe by giving some brightness and sparkle. They will go well with woolen and other warm clothes. Your winter wardrobe will get a golden warmth boost from simple and attractive pearl earrings.
This style is ideal for you if you dislike wearing a lot of jewelry at once. Statement earrings with long, fringe, and dangling are once again appealing. Large, stunning, and unique statement earrings are often best worn alone, so they look amazing in the winter when you're wearing higher necklines and shawls. Bold earrings are perfect for when you genuinely want someone to pay attention to you because they also enhance your face. These earrings are a magnificent way to glam up any outfit without having to think too much about your jewelry preferences. Of course, you should feel free to add some cocktail or stacking rings for extra sparkle if desired.
Large and Bold Pendant Necklaces
When it comes to 1970s jewelry patterns, heavy, bold, and beautiful pendant necklaces were all the trend for both men and women. They've always been a passion of ours, and we're happy to see that they're back. Winter is a perfect time to wear bolder pendants since they look gorgeous against warmer apparel. Wear them long over your outfit or use a smaller necklace with a pendant if your dress has a deeper neckline.
The sterling silver Coral Reef Open Locket Necklace is a superb example of a huge and stunning pendant necklace that will be a fantastic addition to your jewelry collection. It will look beautiful worn long over a gloomy top and is likely to spark conversation. For additional length, add one of the best and most beautiful necklace extenders.
The Amelia Pearl Necklace 
Why not add a few significant and iconic pieces to your jewelry collection since simple pendant necklaces and bands will never go out of fashion? Evil eyes, hearts, and lucky charms were spotted as the latest jewelry trends. Sparkly glitter, bright gemstones, beads, and pearls are used in ornate settings in this style. This elegant look is perfect for achieving that rich-girl attitude. You can choose the size and design of the chain from yellow chains made of sterling silver.
A Tremendous Amount of Layering Jewelry
Layering chains, significantly longer necklaces, is another early 2000s style that is being revived and regaining popularity. These necklaces are much lighter than their predecessors this year, rendering them dainty and elegant. Long charm chains or necklaces made of sterling silver or even combined metals are two popular necklace types. If you like layering jewelry, it's great that these tiny pieces of jewelry pair well with other items like drop earrings, bangles, or layered rings. Multi-metal necklaces have just flooded the market, giving classic gold an edgy touch.
Thumb Rings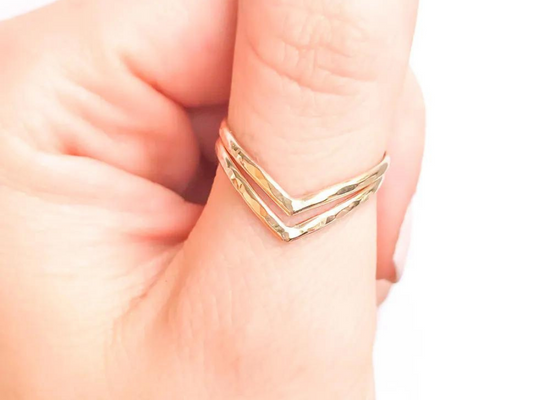 In the latest days, designs that have withstood the test of time include spectacular rings and ring layering. The dramatic thumb ring is a style you can expect to see this year, even though ring layering is still incredibly popular. In fact, you may expect the introduction of glittering thumb rings, especially those with necklace and pearl embellishments for a more understated look. Rings, bands, and mushroom motifs have been gradually but surely rising in the fashion sector and finding their way into jewelry for 2022. Within the next 365 days, jewelry boxes globally will be flooded with mushrooms in all sizes and shapes.