Custom jewelry, often known as fashion jewelry, entails a variety of decorative pieces worn for personal decoration that are designed as less expensive ornamentation to go with a specific fashionable attire. Some individuals love wearing jewelry and those who are deeply in love with it. The latter group stands out and is unique. They usually aren't really interested in the jewelry that is typically on display in jewelry stores or the designs that are commonly worn. They don't view jewelry as a pretty item to admire. For them, beautifying themselves with jewelry is a means to express their love, style, and preferences possibly more elegantly and artistically.
Introduction
Custom jewelry has developed as a hot new trend for people like them. You are not shocked when your buddies showcase a new pair of replica jewelry that some beautiful actress certainly wore on the red carpet. But a simple charm bracelet or jewelry filled with the charms of YOUR choice will mean more to you and be more valuable. Or even a replica of an item that you produced on your own. Custom Jewelry creates items particularly for you that is not currently available in the marketplace. This type of jewelry is usually made by jewelry artists and experts, who create and design less expensive jewelry following the preferences and inclinations of the customers.
10 Secrets of Custom Jewelry
You don't have to be an expert jewelry designer to get a piece of custom jewelry design. 
People searching for custom jewelry do not need to understand anything about jewelry design. All that is required is a sketch (which doesn't have to be outstanding) or an image of the desired piece of jewelry. With jewelry that utilizes computer-aided design CAD, this is very apparent. For instance, if you provide a Jewelry designer with a sketch or snapshot of your preferred jewelry, we can convert it into a computer-aided design model that can be printed, set, and wrapped. For your final piece, you get to choose the size, stones, and size.
To buy custom jewelry, you don't even need to visit a jewelry store:
Everything should be possible to do online, including uploading a sketch or photo, selecting your metals, jewels, and size, and confirming the plan by looking at drawings of what the final product will look like. In most situations, you should be able to do it from the convenience of your own home or office. After that, the jewelry is delivered to you.
The customer can be involved in every phase
The customer can engage at all times. With a custom jewelry design, the customer and the designer communicate and interact throughout the jewelry-making process.
Custom jewelry is less costly than you might imagine.
The cost of customs jewelry is quite low. Because there is no intermediary and you are interacting directly with the designer, costs do not need to be raised to meet the costs of uses for the jewelry. Additionally, you're not spending extra for name brands, companies, or premium goods. Furthermore, when purchasing custom jewelry, you frequently have the chance to buy the stones that will be used in it at amazing discounts, further lowering costs.
Custom jewelry helps you to maintain your budget 
In addition to being surprisingly affordable, customized jewelry also makes it possible for you to maintain your affordability. Collaborating with a designer enables you the flexibility to select design elements that are more reasonable for your budget that helps you to maintain your budget.
Replicas of heirloom items are available
The best part about custom jewelry and computer-aided design technology may be the ability to recreate precious jewelry items. Replica of these custom jewelry designs is also available. Thanks to computer-aided design, a unique piece of jewelry can be restored by using this state-of-the-art technology.
Custom jewelry facilitates jewelry redesign
Custom jewelry enables jewelry enhancement and improvements. When you order custom jewelry, you can also combine innovative ideas with elements from another item of jewelry. For example, you could ask the itinerary to incorporate some of the plan elements from the previous item into the new one or integrate precious stones from another piece of jewelry into your personalized piece. Similar to any of the incredible models, you can also utilize existing computer-aided design models and request modifications.
Artists and the affluent are frequently buying custom 3D printed jewelry
In the past, if you understood anything about computer-aided design jewelry, people would have had little to no idea what you were talking about. However, that is no longer the case because this type of jewelry is now widespread. This is in large part because 3D-printed jewelry has become so widely recognized among the affluent, VIPs, and Celebrity fashionistas, as well as popular jewelry designers, all of whom are actively looking for an edge and the most modern, chicest styles.
Social media is having a big impact on the increasing popularity of custom jewelry. 
The rise of online entertainment platforms like Twitter, Facebook, Pinterest, and Instagram has increased the general public's awareness of style, patterns, and designs. Only the click of a button is required to apply fresh features and fashions, and the pictures immediately traverse across the world.
Recent developments and global advancements interact with one another, boosting the demand for uniqueness and creativity, which is significant attributes for custom computer-aided design jewelry. People want more possibilities and variations, from customized wedding rings to body jewelry. Thus, social media is one of the best and most prominent sources of spreading awareness about custom jewelry and its popularity.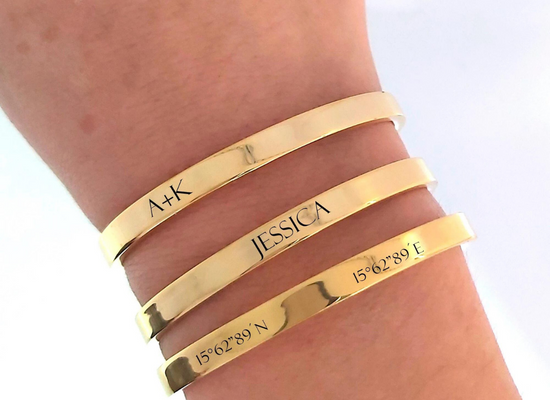 CAD/CAM technology has opened up new and innovative options not possible before. 
Custom jewelry designs are now more commonly available because of computer-aided design (CAM), but it has also given origin to previously unimaginable design options. Customs Jewelry pieces can now be designed with greater prominence, creativity, and sheer magnificence than ever before thanks to computer-aided design methods. Furthermore, it has concurrently opened up the customization interaction to everyone.