Do you love jewelry? If so, then you know that there's nothing quite like the feeling of adding a new piece to your collection. Whether you're looking for a new ring to add to your stack or just something special to wear on a night out, we've got you covered. In this blog post, we'll give you a few tips on how to build the perfect ring stack. So, whether you're just starting out or you're looking for some new ideas, keep reading!
Ring stacking is a modern fashion that has been around since at least the 16th century. What is a ring stack and how do you build one? Here are some ring stacking ideas to help you in creating your own stylish ring stacks.
What is a ring stack?
Building a set of stacking rings will be the ideal choice for you to experiment with and be creative with if you're interested in boosting and creating looks with unique and gorgeous jewelry.
A stack of rings is just a collection of coordinated rings worn on one or more fingers at once. This could be four rings on one finger, eight rings on four fingers, or twenty rings on ten fingers.
The way you wear your ring stack is completely up to you because jewelry styling and wearing is an individual and creative experience.
The most common example of stacking rings is simply stacking an engagement ring with a wedding band. Sometimes the shapes, styles, or colors of these two rings are designed to complement one another.
Even if they were purchased at separate eras and are pretty different from one another, they still look fantastic together as a set.
Though this is a very commonly seen version of ring stacking, it's far from the only type of ring stack. Stacking rings are a stylish and creative way to bring your jewelry ensembles to the next level.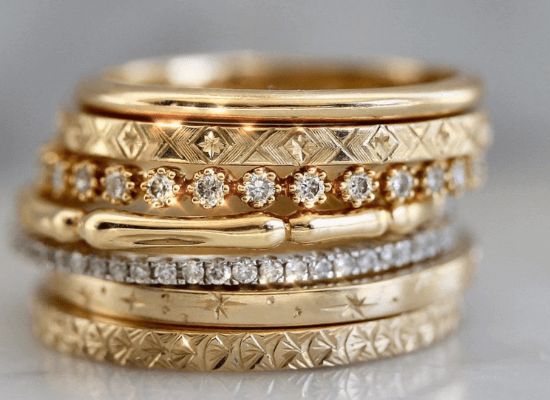 How to build a ring stack?
Decide on your color palette before beginning to build your ring stack. Do you have an everyday ring, such as a wedding band or engagement ring?
Keep this in mind when selecting stacking rings, as you may want to choose rings that match or contrast with the ones you'll already be wearing.
Do you prefer wearing a particular color of metal or do you like to mix and match metals? Do you have a favorite color or type of gemstone? What other colors will complement it? Your ring stack will look amazing if you have a general idea of the colors you want to wear on your fingers.
The next step is to create your foundation ring stack, which you can then mix and match or accentuate with a few brighter or more striking designs. It's ideal to start building your baseline ring stack with thin, simple band rings that are designed for stacking.
If you need ideas you can go through our website and when you see a piece of jewelry you like you just click Recreate. Then add any requirements you have to receive personalized offers from the most fabulous jewelers in the US.
Get creative with your ring stack
Don't be afraid to have fun when designing your ring stack – or to change your stacks trying different styles with the same ring on different fingers.
Even though a stack of all-gold or all-silver rings will always be a classic aesthetics, don't be afraid to mix metals. You have countless options when building your daily looks and can get your ring stack match with your other jewelry.
Once you've picked out the perfect baseline set of stacking rings, it's time to throw in some more cool pieces.
A great technique to make your ring stack stand out is to choose rings with larger stones or wider bands.
You might choose one or several gemstone stacking rings to add pops of color to your stack. Also, add one or more statement rings or cocktail rings to your ring stack that really reflect your personal style.
One bold way to make your ring stack stand out is to wear at least one ring on each finger. This choice will bring a striking element to your attire. The key is to have a range of rings in sizes that fit your different fingers.
Having a broad selection of rings in various sizes will always allow you to be more creative with your ring stacks and mix them up on a regular basis.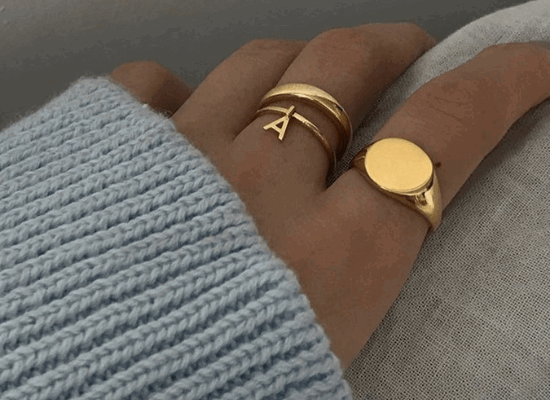 A ring stack for every occasion
The fact that you can always customize and expand your ring stack is one of its best features. If you'd like, you can switch up the rings in your ring stack every day! After all, choosing your jewelry and ring stack is all about expressing your individual sense of style.
Have an event coming up and plan to wear a necklace and plain gold earrings? For a timeless, elegant look, take off your silver rings and wear thin, gold bands instead.
Getting ready for a fun night out? To jazz up your looks, add some statement jewelry and colorful gemstone rings. To add to the colorful feel, mix your metals.
Your ring stack should be a collection of rings that work best for you and reflect your own unique style. For versatile styles that work for any situation, don't be hesitant to switch up your ring stack.
Gifting a ring stack
In search of the perfect gift for that special someone? According to studies, the majority of women choose jewelry over all other kinds of gifts.
Investing in stackable rings is the perfect way to add important jewelry to a loved one's collection in a way that suits them.
So, how do you choose a ring stack for someone else?
Use the jewelry and rings they already own as a starting point for purchasing stacking rings. For instance, gold stacking rings can be the ideal addition to their jewelry collection if they love gold jewelry.
Buying your lover, a ring with their birthstone is a thoughtful and unique way to show them how much you appreciate them. These rings are ideal for adding a personalized pop of color to any ring stack.
Don't forget to consider their size when making your purchase. For assistance, consult our ring sizing chart.
Start creating your jewelry collection with stacking rings.
Customized jewelry is one of the best ways to create one-of-a-kind pieces and unique rings to build your favorite stacks.
You can never go wrong by adding personalized jewelry to your ring stack.
So, what are you waiting for? Start building your perfect ring stack today!
Join Jewelers Connect and connect with professional jewelers to begin crafting your statement pieces!