Engagement rings are more than just beautiful pieces of jewelry. They are symbols of love and commitment that couples exchange with each other.
As such, it is important to choose the perfect engagement ring for your fiancée-to-be. Buying an engagement ring is not an easy process. In this blog post, we will discuss the future of engagement rings and what you need to know before making a purchase!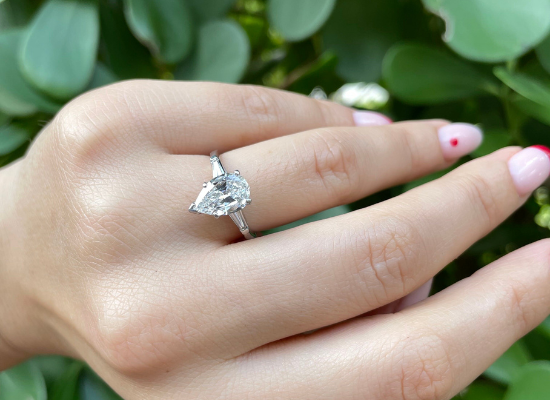 Engagement Rings' History: Raises Questions
Today's tradition-breakers frequently view engagement rings as an outdated representation of patriarchal ownership. And there's good cause for it.
In reality, this deeply rooted symbolism dates way back to ancient Rome, when women wore rings to represent a business contract or obedient love.
Rings from that time were frequently crafted from ivory, bone, copper, or silver.  However, gold became fashionable about the second century CE and has remained so ever since.
Even gold rings have been discovered in Pompeii's ruins, but it wasn't until a papal edict in the year 850 that genuine "betrothal rings" gained recognition as such.
These early rings were probably quite plain at first, but over time they have transformed from simple symbols to stand-out statement pieces, as they started to incorporate enamel, gemstones, engravings, religious symbols, etc.
Design evolves, and so does taste…
When it comes to engagement ring trends, the twentieth century reigns supreme.
Over the past 150 years, jewelry designs have closely followed fashion trends, ranging from magnificent Edwardian styles and classically Art Deco to mid-century flare and modern glam.
And fashion is a never-ending circle even in the jewelry industry, as follows:
Antique diamonds
Although contemporary diamond cuts are famous for their dazzling brilliance, the soft glow and distinctive flaws of ancient diamonds, which were cut to look their best in candlelight, give them an undeniable charm.
They're also popular today for another reason: sustainability. Although there are debates concerning the effects of diamond mining and lab-grown diamonds on the environment and people, buying an old diamond is actually the most sustainable choice because it doesn't use any new resources. It's similar like purchasing vintage, but it will actually last a lifetime.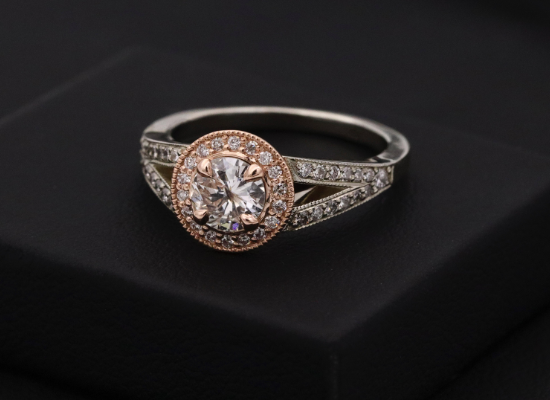 If you like the idea of antique diamonds but want a more modern take, a rose cut diamond should to do the trick. Not only do we adore a rose cut for its subtle rainbow dazzle, but also for its incredibly low-profile wearability.
The shallow rose cut, which has a flat back rather than a pointed pavilion, is ideal for those who frequently wear gloves or who simply don't want a large diamond sitting high from their finger.
And without making an effort, they'll give you a vintage appeal. Use a bezel or plunge setting to give a rose cut a contemporary look.
Art deco style
Engagement rings in the Art Deco design will not ever truly go out of style since they are just so glamorous.
Consider geometric motifs, dazzling white platinum, and emerald and Asscher cut diamonds with step-cut facets that create the illusion of a hall of mirrors.
With the popularity of signet rings and brightly colored patterned bands, Art Deco is a popular style for gender-neutral engagement rings as well.
With a wide domed band set with a sunken diamond, you may update this style and create a very wearing, low-profile engagement ring.
Or, for a three- or five-stone design ring that offers you plenty of finger coverage, mix and match stones that are closer in size in instead of a center diamond.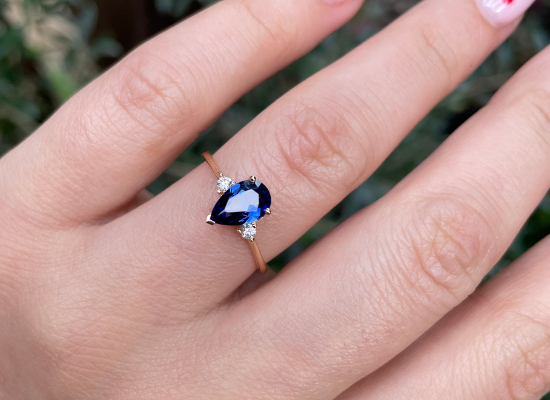 Non-traditional & alternative engagement rings
Adding a gemstone accent or center to your engagement ring is a popular choice that marks the rise of customization in engagement rings.
There are many different engagement ring stone selections that have been around forever for individuals who do not like the white diamond look, whether it is just too conventional or you have other ring styles preferences.
For instance, sapphires have been associated with romantic love since the 14th or 15th century. Before diamonds truly became a thing, colored gemstones were also popular in Art Nouveau and Edwardian style jewelry.
Black diamonds and gemstones may have traditionally been associated with sadness, but today they have a modern, edgy style and come at a high price.
You can mix accent stones with a center diamond or accent diamonds and a big colorful center stone.
There is always the iconic Princess Diana (and currently Kate Middleton) engagement ring, with its halo of diamonds framing a deep blue stone, if you're looking for a contemporary sapphire engagement ring.
We particularly adore sapphires for their many colors, which you may display in a cluster engagement ring or a band with many color combinations.
Additionally, black diamond engagement rings are more common than you might imagine.
We adore them in bold geometric designs or in very romantic designs for some contrast.
Engagement bands
Eternity bands, which are popular with couples who want a more low-maintenance feel with a wow factor, are universally beautiful and appropriate for every couple.
People of all ideologies are choosing basic, individual fashions these days over what everyone else is wearing, and this includes unique bands. Anyone perception of the perfect engagement ring is different.
Anyone can wear a band in place of or in addition to a classic engagement ring with a major stone.
For instance, pair a solitaire with a nice gold design. There are so many ring styles you can get inspired from. to customize a beautiful ring and make it yours. Alternatively, go all-in with a diamond eternity band!
Wedding bands are here to stay!
We enjoy mixing different metals or textures in a band stack as well—anything to make it uniquely yours! Slim solitaires go well with wide bands.
Accent with a colorful gemstones. Optionally, a whole row of pave diamonds! For a two-tone stacked effect, mix metals. Or, for something different, try a matte finish.
Engagement rings nowadays
No matter what your relationship looks like, or how you decide to commemorate it with jewelry, you can choose your signature ring style that matches your personal style and your partner's style.
Keep it simple with a thin band and a single stone or go all out with a thick band and an eternity of diamonds. You also have the option of a three stone ring. Add color with gemstones or keep it classic with a white diamond ring.
There are no rules when it comes to engagement rings, so find what speaks to you and wear it proud!
There hasn't been a dominant trend in the most recent decades. Couples now have greater access to engagement ring information and a wider variety of styles to pick from thanks in part to the internet. And they know where to look up for the big moment. We are sure that the majority have their perfect ring on their Pinterest board.
The basic style that ruled for the majority of the twentieth century—a ring with a large, dazzling diamond—remains the most desired at the start of the twenty-first century, despite trends coming and going year after year.
Engagement ring trends of the future
Although we cannot forecast the future, we do believe that some of the trends in engagement rings that we are currently observing will last for a while.
This includes delicate, naturally inspired designs as well as vintage-inspired engagement rings and styles. We'll go ahead and anticipate one trend:
Couples want an engagement ring that is unique and reflects their personal taste, whether that means an antique, a custom design, or a traditional style that has been slightly modified by picking a unique gemstone or metal color.
But regardless what the future holds, we believe that the trend of socially conscious and eco-friendly rings—made with ethically sourced gemstones and recycled precious metals—is one that will never go out of style!
What style of engagement ring is your favorite? Let us know in the comments below!