Jewelry is often one of the most cherished items we own. It can be difficult to know how to pack it properly for travel, especially if it is delicate or expensive.
In this blog post, we will give you some tips on how to pack jewelry for travel so that it arrives at your destination in the same condition as when you left. Follow these simple steps and your jewels will be safe and sound!
One of the most essential things to know how to pack securely while traveling is jewelry. It's important, meaningful, and easy-to-lose; yet it's one of the most crucial things to understand when packing light.
Each item must be treated differently while packing your jewelry. Necklaces usually tangle and knot. Rings can get lost in side-pockets or get bent if left unprotected. Bracelets may get caught on things, and earrings are difficult to find, when not packed properly.
There are many ways to get creative when planning how to pack jewelry for travel. You can buy affordable jewelry organizers that keep each of your jewelry items separated and tangle-free, or you can try a DIY option using everyday household items.
Your Jewelry Bag
Your jewelry becomes a lot less of a hassle to pack when you take advantage of these great organizers:
Jewelry box organizer
A small jewelry box organizer is a smart purchase for traveling with jewelry because it provides both organization and protection for your valuable items.
This product has holes for your earrings and inserts for your bigger jewelry and makes transporting your jewelry from one place to another simple as well with its zipper seal, therefore it's the perfect choice for air travel.
Pill case
Nothing beats the seven-day pill organizer when it comes to the tips and tricks for traveling with jewelry. Not only are they affordable, but they also allow you to plan what jewelry you're going to wear each day. Pill cases are tiny, strong, and can keep all of your jewelry ultra-organized.
While they don't hold large costume jewelry, they're perfect for dainty items and will keep each piece safe and sound.
Jewelry pouch holder
If your jewelry is low maintenance, use a soft pouch. You can either purchase an affordable jewelry pouch or create your own: just get some fabric and tie it up with a bit of rope or even a shoelace. We love the idea of jewelry pouches around your favorite jewelry pieces.
Jewelry roll 
A jewelry roll organizer makes traveling with jewelry simple. These organizers are affordable and will help you pack jewelry into separate compartments so that nothing gets tangled together.
If you're going to pack jewelry in a carry-on, the roll-up organizer is a great option, because it won't take up much space. Another benefit of the jewelry roll organizer is that it easily fits in your luggage and can be unrolled and hung up in your hotel room. All of your jewelry is on display for when you want to accessorize outfits on your trip.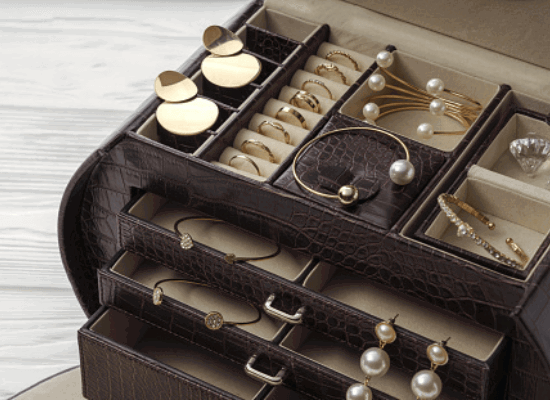 DIY travel jewelry organizers
Here are some tricks to keep everything in its place and in good shape as you bundle up your favorite items:
Hook earrings through buttons
Stick your two earrings through a button's two buttonholes. It's a two-in-one trick: Your earrings stay together, and you have an extra button in case one pops off your clothing while you're out and about!
Recycle Containers
If you prefer to spend more money on your jewels than on ways to transport it, household items can make perfect organizers and containers for jewelry.
An empty tin that held breath mints becomes a small yet sturdy case for small jewelry items like rings and earrings.
Rings and bracelets might be stored in an empty glasses case from a an old pair of glasses.
Keep Necklaces in Straws
Reusable plastic straws may be the ideal solution to help you pack your necklaces. It may be difficult to learn how to travel with jewelry, since necklaces are continually getting tangled in transit.
Avoid tangling by inserting half of the necklace into the straw. The firm plastic line will keep it in place, and you'll never have to untangle your necklaces again!
You'll want to bring, at most, two necklaces for your trip, including one that you can wear every day and a slightly fancier one that's perfect for a wedding or any other official event you've been invited to.
Ideally, you should pack your necklaces inside any of these three options: a plastic bag, straws, or a silk jewelry bag.
Attach Jewelry to Paper Plate
If you have disposable plates, use them to store your jewelry at home or on the go. Take one plate, simply insert your earrings in the middle, and make holes for your necklaces and bangles on the side.
Ziploc Bags
Ziploc bags, or sandwich bags, from your kitchen are perfect to organize your jewelry quickly and easily. You can see what you have in each pack without having to open it. You may also separate goods if necessary.
It's also compact and light, so it won't take up much room in your luggage.
Safety pins
Safety pins are a woman's best friend at critical moments of wardrobe malfunction. Now they can also help you keep your jewelry tidy when you travel.
Use this for hoop earrings, rings and delicate bracelets together. It's best to have a pin per pair to make it easy to take out the pair you need.
DIY Jewelry Roll with a Travel Towel
Make a jewelry roll with a shirt or travel towel
Who needs to buy a travel jewelry roll when you've already got the materials for a DIY jewelry kit? Start by neatly laying out your jewelry on a shirt or travel towel.
Roll up the soft fabric—making sure that no two items are touching one another—until it forms a neat bundle. Use hair ties or rubber bands to secure the ends, and you're ready to travel! This is a good way to pack bracelets.
Use cardboard
Using a pen, punch tiny holes grouped together by pairs into a piece of cardboard and then insert your earrings through the holes.
Place the cardboard inside a Ziploc bag to prevent any earrings from falling off and getting lost.
Erasers
Keep the backs to your stud earrings from getting lost in transit by sticking them in a simple eraser leftover from your school days.
Further helpful tips to keep in mind:
Not the Crown Jewels
If you are traveling to a wedding, a gala, or an event where you want to impress in your dress or gown, it's tempting to take your most expensive jewelry to accent.
But consider leaving your crowning jewels at home in your safe. The loss of a favorite, expensive, or sentimental piece of jewelry is heartbreaking. And the opportunity for loss or damage increases when traveling.
Choose a less expensive piece (or costume jewelry) that is bold and can impress, but won't break your heart if it's lost or damaged during your event.
Make a list
List all the jewelry you plan on taking with you. Keep one copy with you and store it separately from your jewelry. Leave another copy at home. Also take pictures of your jewelry your plan on brining.
How to travel with jewelry depending on your destination
If you're traveling to an area where locals don't have the opportunity to own flashy, expensive jewelry, consider bringing subtle, inexpensive jewelry and leaving your most valuable pieces at home.
You'll be able to interact with locals in a more authentic, respectful way. Regardless, it's always a good idea to lock your most precious jewelry in the safe in your hotel room, rather than leaving it in your luggage when you're out and about.
Now that you know how to pack jewelry for travel and how to travel with jewelry, look forward to picking up some new favorite pieces on your trip! Buying jewelry from local artisans is a chance to support the community you're visiting.
Final Thoughts
And there you have it. Those are some of the simple ways you can easily pack your valuable jewelry for your next trip.
You can now feel confident that you'll look your best no matter where you are!