When it comes to accessorizing, the necklace is one of the most important pieces. It can really make or break an outfit. Are you trying to figure out how to choose the best necklace length or chain length?
What length and style of pendant necklaces or chain necklaces will suit you and your neckline best? Or are you just generally confused about necklace lengths and types and not sure where to start?
We realize that this may be tricky. And we also know that getting it right can make a huge difference when you want to make a style impact and look stylish.
Because we want to assist you decide what will work best when shopping online for pendants and necklaces, we've come up with this handy length guide, which includes a handy women's necklace length guide with inches, and also tips on how to measure for a necklace or pendant.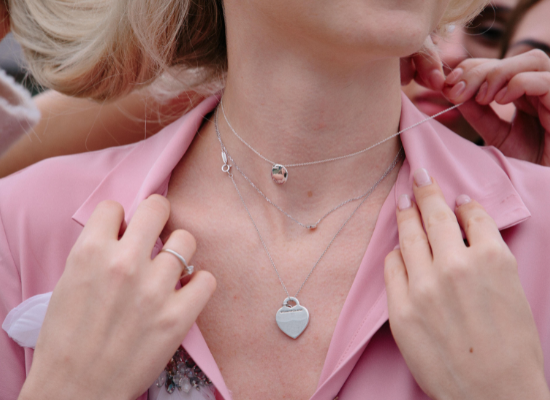 Necklace length chart
Our necklace length guide below covers most popular lengths you'll come across online for women's necklaces, pendants and chains. It will give you an idea of where each length is likely to sit on a woman's frame.
However, remember that all of us come in different shapes and sizes: if you're not sure then we recommend that you take the time to measure in front of a mirror to see what works best for you.
As an aside, you should always consider what suits you best personally when it comes to jewelry: your own sense of style, build, coloring, etc. And we're big fans of people breaking jewelry 'rules' as they see fit!
Popular necklace lengths
The most popular necklace length is the Standard (or princess) length, which is generally 18 inches long. It's the most flattering length and will suit most situations. If you're looking for a necklace or pendant to wear on a daily basis, then this is likely to be your go-to length.
This length will generally sit above the neckline for lower cut attire or over the top of crew necked and other high-necked outfits. If you're wearing a pendant at this length it will sit in a pleasing V shape which will frame your face.
If you are tall or have a larger frame, try a matinee length necklace, which is usually 22", to get a similar effect.
Necklace Length and Style Guide for Face Shape
-Diamond and Oval face shape
Diamond and oval face shapes are somewhat longer and wide in shape, so putting on long necklaces only emphasizes the length. Therefore, go for short necklaces that complements the width, for instance; rectangle pendants, broad curves, and collars make the best options.
-Square and Triangle face shape
Both of these face shapes are characterized by a subtle, strong jawline. The distance between the forehead, cheekbones, and jawline in square face shape is equivalent; whereas triangle face form is considerably narrower at the hairline.
Long necklaces help in balancing a strong jaw and adds to the face length. These face shapes blend well with long necklaces, also eye-catching pendants are a perfect choice.
-Rectangle face shape
Like the Oval, oblong and rectangle face shape has more length than width. Rectangle shaped faces have got square hairline, while elongated shaped faces have rounded hairline and a narrower chin.
Short necklaces with a broader curve or circular pendants are a great option for this face shape.
-Round face shape
Round is reasonably straightforward, and people with round faces take this for their advantage to look even more elegant. Necklaces creating a "V" or "Y" or those with geometric shapes can perfectly balance the curves of a round face. Long necklaces that make "V" shape matches the round face shape quite well.
How to measure?
One of the easiest ways is to measure an existing necklace which suits you or the outfit you're planning to wear. A tape measure will come in handy.
If you don't have an existing necklace to measure from, you can use some string, ribbon or a soft measuring tape to figure out what will work for you.
Stand in front of a mirror while doing this and it will be much easier to figure it out. You might need a safety pin or another person to hold the ends together so you can get a better idea of how different lengths will sit on you.
Why not have some fun while you're doing this and try on a variety of clothes? You can check different necklace lengths to see what complements each outfit and see what you need to add in your jewelry collection.
Finally, bear in mind that a pendant will generally hang in a V shape rather than with a softer curve. You should also take note of how long the pendant is, to determine where it will rest on your neck.
What necklace length is right for you?
Knowing which necklace and chain sizes will suit both you and the outfits you plan to wear is a great way to up your jewelry game. To get a sense of which lengths would work best in different situations, take a look at our handy necklace style information below.
1.Choker length (16″)
It is usually placed close against the base of neck. This length looks great with a variety of clothing, and looks perfect wearing it with off-the-shoulder, crew and boat necklines. If you have a larger frame or you don't like tighter necklaces, this length may not be ideal for you.
2.Standard or Princess length (18"-20″)
It is placed on the collar bone. It will look flattering on most women and it is suitable for different styles of attire. If the necklace has a pendant which forms a V-type shape then it's likely to look great with a V-neck, surplice or sweetheart neckline. This is the most commonly purchased length.
3.Matinee length (22-26")
It sits right between the collar bone and the bust. It's a standard length that looks great with a wide range of clothes, from business to casual wear. You'll find this length will work especially well over collared shirts and also higher necklines. Top tip: If you are tall or have a wide neck, wear this length as your go-to size rather than the standard (princess) length, as it complements you more.
4.Opera length (28-34″)
It is placed on the bust or several inches below the collarbone. This length works really well for most high necklines – including turtle necks and boat necks. It's also an elegant choice for evening wear. You may also wrap an opera length around your neck more than once to make a double stranded collar or choker style depending on your frame and length.
5.Rope length (longer than 34")
A rope is any necklace which is longer than opera size. Rope necklaces are generally intended to be wrapped around your neck more than once to form a double stranded necklace. A larger-linked necklace looks beautiful at rope or lariat length.
6.Layering necklaces
Layering necklaces allows you to build your own look.  Why stop at just one necklace? You can choose two, three or more necklaces of different length to create an effortless layered necklace look.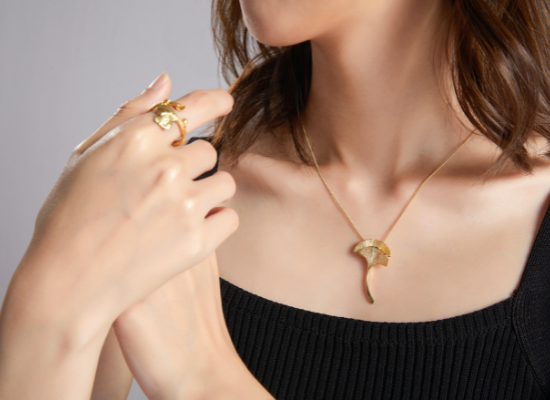 Conclusion
And don't forget, once you know your measurements, it will be much easier to shop online for the perfect necklace or pendant! No more guessing games.
We hope this guide has helped and that you feel armed with the information you need to choose the right necklace length next time you're shopping for jewelry. If you have any questions, please don't hesitate to get in touch. Experts on our platform have a very long experience in the jewelry industry and they can give you professional advice and style tips to create the perfect necklace to match your personal style.
What's your favorite necklace length? Let us know in the comments below!