Are you looking for the perfect engagement ring for your man? If so, you're in luck! In this blog post, we will discuss six tips that will help you choose the perfect ring. Rings can be a difficult purchase, but with these tips, you can't go wrong!
What matters most when it comes to a men's engagement ring?
Designing men engagement ring is all about channeling their unique style into a piece of fine jewelry. We always encourage people to think outside the box and be brave when it comes to choosing which design elements to incorporate. From a dazzling center stone—white diamonds, black diamonds, and sapphires always make a good choice—to a hand engraved message along the band, the options are limitless.
The main piece of advice we give to people is to follow your instincts. When you find the love of your life, your heart, and your head shout 'yes'. You get that feeling. You just know. The same goes for picking the perfect ring. When the design is just right, you'll know.
A Quick History of Men's Engagement Rings
Men's engagement rings have actually been available in the United States for almost a century. In 1926, L. Bamberger & Co, a popular store in New Jersey, advertised men's engagement rings in the local newspapers. The commercials were stereotypically macho and designed to appeal to the average man with money to spend.
Understandably, the trend didn't catch on in the 1920s because most guys weren't even wearing wedding rings back then. It was not until the 1940s when famous personalities such as Humphrey Bogart started wearing a wedding band, that their popularity skyrocketed.
Initially, most men's engagement rings were simple metal bands, but this has evolved over time into more contemporary and ornate designs including those with diamonds, gemstones, and mixed metals.
Choosing an engagement ring is a very personal decision. After all, it is a symbol of your love and commitment. With that being said, there are a few things you should keep in mind when choosing a ring for your man. Here are six tips to help you choose the perfect engagement ring for men:
Tip #01: Go for personal choice over the trends
Trends may come and go, but your love for your man should never grow old. The engagement ring is the sign of your growing love, and it will always be with you and your partner. That is why it is essential to choose a classic and timeless ring. Preferring the personal choice over the trends can be an excellent strategy to select the correct ring that compliments your partner's personality.
The first thing you should do when choosing an engagement ring for your man is to consider his style. Take a look at your partner's current accessory range. He may not have much on him as most men do not wear many accessories. However, some casual conversation can give you valuable details about his preferences.
You need to know whether he likes gold or white gold. Does he like minimalist design or extravagance? What kind of jewelry does he normally wear? Does he prefer simple or flashy jewelry? Taking his personal style into consideration will help you narrow down your options and choose a ring that he will love.
Know his personal preferences over the trends because he would appreciate the thoughts you put into it rather than getting the trendiest ring available in the store.
Tip #02: Think About His Job
Another important factor to consider when choosing an engagement ring for your man is his job. If he has a job that is physical in nature, you will want to choose a ring that is durable and can withstand daily wear and tear. On the other hand, if his job is more low-key, you have more flexibility in terms of ring style. If he is a button-down consummate professional, select a more conservative style of ring. A simple solitaire on a gold band would be a great choice. If he is more of a free spirit, be bold and present him with a men's diamond engagement ring design that complements his strong character.
It's also important to consider lifestyle. Opting for a delicate or ornate ring for a guy who works with his hands might not be wise, and the same applies if your future husband regularly plays sports or has other hands-on hobbies.
Tip #03: Set a Budget
Before you start shopping for an engagement ring, it is important to set a budget. Rings can be very expensive, so you want to make sure you are not spending more than you can afford. An engagement ring is an important investment and choosing rings may also be a very emotional experience.  Once you have a budget in mind, you can start shopping for rings within your price range. It will save plenty of time and help you narrow down your search. You will be amazed to see the ring choices available within any budget.
Tip #04: Choose the Right Metal
When it comes to engagement rings, there are a few different metals you can choose from. Gold is one of the most popular and traditional choices for engagement rings for men because it is resistant to rust, tarnish, and corrosion.
Depending on his preferences, style, and skin tone, you could opt for warm yellow gold, romantic rose gold, or cool and classic white gold. You should choose a metal that compliments your man's skin tone. For example, if he has a warm skin tone, yellow gold would be a good option.
Modern materials like titanium, ceramic, carbon fiber, surgical-grade stainless steel, tungsten, and even silicone offer alternatives that are stronger, more comfortable, more affordable, and longer-lasting.
Titanium is strong, lightweight, and hypoallergenic; ceramic is non-conductive; surgical-grade stainless steel is affordable, strong, and easy to form; and silicone is elastic, comfortable, and easily replaceable. The choice of material is no longer limited by tradition. Choose the material that best fits you and your lifestyle.
Tip #05: Add some sparkle
Why should women have all the fun? There are a multitude of sleek, masculine ways to incorporate diamonds in men's engagement rings. Men are buying diamond-accented bands for that engagement moment, either in a pavé of smaller stones or with a single solitaire.
No matter how trends change, it seems like the allure of a natural diamond—3-billion years in the making—still has the power to mark our most significant life milestones. Some men want full on diamond extravagance. Maybe he has always dreamed of donning a massive sparkling Super Bowl ring and wants something that rivals Tom Brady's latest acquisition. Choose a diamond shape that you think your man will love.
Tip #06: Pick a Ring That Suits His Personality
Design the engagement ring for him. His personality and personal style should be a major influence on his ring design, just like your style would influence his choice of ring for you. Not every man wants a large diamond, and not every man wants a simple setting. Your choice to go extravagant with diamonds or to tone it down to a simple solitaire setting depends on your partner. If he is a traditional guy, you might want to choose a classic solitaire diamond ring. If he is more daring, you could opt for an engagement ring with a unique design. Remember, you're buying for him, not you.
Engagement rings vs wedding bands for men
Many women often opt for a wedding band that stacks with her engagement ring so she's able to wear them together on the same finger after the wedding. Men, on the other hand, will usually move the engagement ring to their right hand when they get married to make room for the wedding band.
A men's wedding band is traditionally a simple metal band, while there is more flexibility and room to be creative with the engagement ring. Just like wedding bands, many couples opt for matching engagement rings that complement each other so it's clear they are a pair. Ultimately, an engagement ring can be whatever you want it to be if it fits your style and budget.
-Look for a matching wedding band
When selecting an engagement ring, keep in mind that you also might need to find a matching wedding band to pair with his engagement ring. Often, a simple gold or white gold band works well against any men's engagement ring. You may also discuss if his engagement ring will serve as both an engagement ring and wedding ring—some men prefer to wear just one ring.
What About the Details?
Once you've chosen the style of ring that is right for or your guy, it's time to look at some other important considerations.
Engagement Band Width: What's the best option?
Men's engagement rings come in a wider range of widths than women. Thicker bands are more popular for guys with larger hands or those who work with their hands. Engagement rings that measure approximately 8mm wide (around four nickels stacked together) are the most popular choice, but there are rings available in all sizes from super-thin 2mm up to much wider.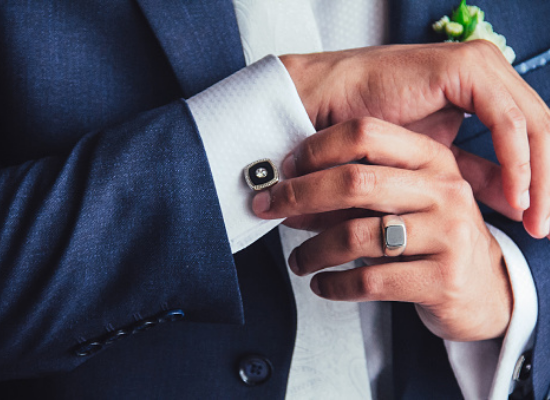 Ring Size: Getting the perfect fit
For comfort, men's engagement rings should gently slide over the knuckle with no discomfort but fit snugly to the finger.
If you're buying your ring online, it's important to get the right ring size from home. Take a string and wrap it around the biggest part of his finger and then mark or cut the part where the string joins or overlap. With a ruler, measure the size of the string that you marked. The measurement that you have gotten from the string is the circumference of the finger or your ring's size.
When you measure the string, check the measurement of the ruler with that of the men's size chart so you know exactly what the ring size is. In this way, you can order the rings online without having to go to the jeweler. However, the string method takes time and is a nuisance.
Another way to find the perfect ring size for your man is to take him along to a jewelry store so he can try out the rings. The store workers will also measure your ring size and they will let you know for future use.
Finish: Choosing the right texture
The finish of the engagement ring can be key to its look and how it suits its wearer. Men's engagement rings come in a wide range of attractive finishes including:
High Polish: 
High polish rings tend to be the most popular and feature a shiny and reflective surface. Be aware that some polished metals after more prone to scratching than others, so will need to be carefully looked after.
Matte Finish: 
A matte-finish ring is understated and subtle, and it may be the perfect choice for a guy who prefers a more relaxed look.
Sand-blasted: 
Gritty and industrial-looking, sand-blasted rings have a rough look, with no shine or reflection and a textured surface that better hides bumps and scratches.
Hammered:
A hammered metal ring could be an ideal choice for guys who like a natural and rustic look. These often feature a smooth edge with a textured hammered metal band.
Engraved:
For those who like the little details, there are many options for engraved men's engagement rings—from Celtic patterns to herringbone.
How to Wear & Care for Your Ring
Traditionally, the engagement ring is worn on the third finger of the left hand, but there's no hard and fast rule. Some men might wear their engagement ring on the ring finger, then move this to another finger when they get married to make way for the wedding ring. Another option is to stack the rings on the same finger—the choice is really yours.
It's wise to remove the ring when doing an activity that might expose it to an abrasive surface or heavy impact. Care for the ring by cleaning it with a gentle jewelry cleaner and soft bristle brush.
Diamonds are one of the hardest substances on earth, but they are not indestructible. If the ring contains diamonds, we recommend having it professionally cleaned and inspected every six months, or if it has undergone some sort of trauma.
Conclusion
Since engagement rings for men aren't as mainstream as engagement rings for women, many couples opt to go the custom design route. Designing your own ring can help express how unique your bond truly is and the process can bring your closer together as a couple. Whether you want your engagement rings to match or have a vision in your head of a ring that represents your relationship, the sky is the limit when it comes to custom design.
At JewelersConnect.com you can connect with professional jewelers that will provide you with extra tips. You only need to photo upload your favorite designs and wait for the quotes, choose your favorite, and create your dream engagement ring.
We hope these tips help you choose the perfect engagement ring for your man! Remember, this is a very personal decision so make sure you take your time and find a ring that you both love. Thank you for reading!