What is the meaning of a Toi et Moi ring? This is a question that many people have asked, as these rings are becoming more and more popular. A Toi et Moi ring (also known as a unity ring) is a ring that is typically worn by couples. It symbolizes the unity of two people, and their love for each other.
Meaning "you and me" in French, their name alone puts toi et moi rings on top of the list for the most romantic jewel of all time. But what gives this style of ring the amorous edge is its history. Valentine's Day is closely linked with a love story of historic proportions, and it's the ideal moment to consider the significance and meaning of this well-known design, which is once again gaining popularity.
We want our jewelry to tell a story. Bridal jewelry is the most treasured of all wedding gifts, and there's no item that compares to it. If you're seeking for an engagement ring that has a particular romantic feel to it, the Toi et Moi style design should be on your radar.
The meaning of toi and moi ring
Toi et moi refers to a ring with two gems that sit side by side or close to each other, symbolizing two souls becoming one. The traditional toi et moi ring features two stones of a similar size and cut, but in recent years designers have been experimenting with mixing different designs and materials, as well as diamonds and other precious gems.
The symbolism of two different gems coming together in harmony to form a stunning ring is one of the most romantic forms of jewelry expression.
The romantic history of you and me rings
The tradition of giving toi et moi rings to symbolize love between two people dates back hundreds of years, but it was a famous couple and their scandalous relationship that brought the style to the attention of a wider audience. In 1796,a French revolutionary soldier at the time, Napoleon Bonaparte proposed to Josephine de Beauharnais.
Their marriage spread much rumor throughout Paris. She was the widow of an aristocrat and six years senior to him, an ambitious and common French army officer. It was a love story that has gone down in history as one of the most passionate of all time. Josephine's engagement ring featured two pear shaped stones: sapphire and diamond set on a slim gold band. —the original Toi et Moi ring!
The ring above made headlines when it was sold by French jewelry house Osenat in March 2013 for close to $1 million due to its remarkable history.
The emerald and diamond toi et moi ring set given to Jacqueline Onassis by John F Kennedy in 1953 is another well-known ring, but the popularity of this two-stone style of engagement ring reached its peak during the Edwardian and Belle Époque eras.
The significance of two stones was especially romantic since the stones themselves carried symbolism too, as well as representing the connection between two people. The diamond with a ruby, which represented love and prosperity, was especially popular. The diamond indicated love and success, while the ruby signified passion and devotion.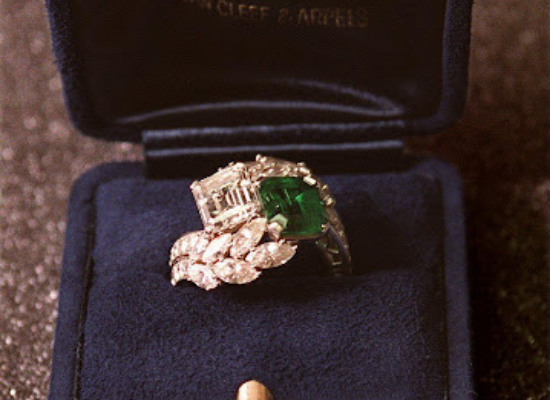 Jackie Kennedy famously redesigned her toi et moi engagement ring.  BOSTON GLOBE
Toi and moi rings today
These antique toi and moi rings are still popular today, but many contemporary designers are recreating these pieces experimenting with cuts and shapes and combining different gemstones. Traditional Toi et Moi rings had similar size and cut stones, but now designers are mixing this.
You'll find Toi et Moi rings with different gemstones, cuts and sizes. Rings might be off balance, with the two stones being separate from each other on the setting. Dior's Diorama Precieuse, the Toi et Moi, is one of the most popular versions.
What do Emily Ratajkowski, Ariana Grande, and Megan Fox have in common? The three celebrities all have two-stones engagement rings, the latest trend to adorn ring fingers since fancy-shaped diamonds hit the scene. The unusual combinations of white and colored gemstones, as well as rare cuts and shapes, create a unique look that is both contemporary and classic.
Sebastian Bear-McClard proposed to Emily Ratajkowski with a jaw-dropping toi et moi ring: an 18-carat gold band decorated with a 2-carat princess cut diamond next to a tilted 3-carat pear-shaped diamond created by Alison Lou.
Ariana Grande wears a beautiful toi et moi on her left hand, too. The singer's ring, which has an oval-cut diamond set on a white gold band and a delicate pearl (which her fans believe was taken from her grandfather's tie-pin), is also adorned with a small circle cut diamond.
Toi et moi rings aren't only for proposals. Last year, Kylie Jenner introduced her own version of the classic, with matching mini-me version for daughter Stormi (the pregnant billionaire wears it on her left hand but not on her ring finger)."Daddy got us matching rings," Kylie Jenner wrote on her Instagram.
More recently, MGK proposed to Megan Fox with a ring created by British jeweler Stephen Webster, which incorporated both of their birthstones. "The emerald and the diamond are set on two magnetic bands of thorns that draw together as two halves of same soul forming the obscure heart that is our love", he explained in an Instagram post.
These modern versions of the Toi et Moi ring still evoke a romantic feel, but just in a more contemporary setting. The romantic nature of a Toi et Moi ring will always be present, regardless of whether it's a genuine antique or a contemporary design! Consider this beautiful design while looking for an engagement ring for your loved one.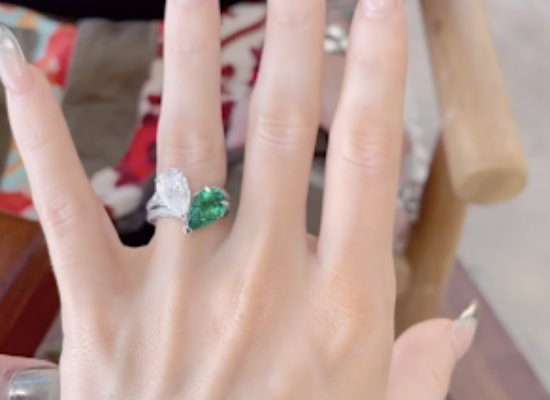 Megan Fox's ring incorporates an emerald, her birthstone, and a diamond, Machine Gun Kelly's.  INSTAGRAM.COM/MACHINEGUNKELLY
What should you know before buying one?
Putting them onto a single setting, then, is a metaphor for building a life together. Sentimental meaning set aside, this is a common choice for modern brides because of the luxurious extra stone. If you like this style, there are a few things you should know before you drop hints to your significant other.
First of all, it's a wonderful shape to work on together, since toi et moi engagement rings give you the ability to create something unique and significant to your relationship. Ultimately, you may choose the ring's cut and gemstone combination based on your preferences.
Another key factor to consider? If your personal preference is two stones, make sure their quality match. While it may be tempting to go for a pearl or another less-durable gem, stick with diamonds, sapphires, and rubies for every day wear.
Whichever gems you pick, you should also make sure their positioning and proportions make sense—and when it comes to the band, opt for a simple setting to ensure the stones are the focal point. Of course, it's your engagement ring, so you may design it any way you want.
Now that you're well versed on everything there is to know about this engagement ring style, we've provided a few ideas you can get inspired from to design your own or a unique toi et moi for your special someone.
Ariana Grande fans are convinced the pearl on her engagement ring was taken from her grandfather's tie pin. INSTAGRAM: @ARIANAGRANDE
Inspirational ideas for your twin toi & moi ring
1-A sapphire and diamond toi et moi
It is the most classic version of the toi et moi yet a stunner combination
2- Round diamonds set in a 14K yellow gold band
This is a minimalist take on the Toi et Moi style, and makes perfect diamond engagement ring.
3-A stunning ruby gemstone and diamond come together encircled by a halo of sparkle.
If you want to add a pop of color to your engagement ring without sacrificing the diamond look, consider this option.
4- Choose two old European cut diamond to make one major impact.
This is perfect if you want to recreate a vintage look for your ring.
5- Recreate the combo of an Asscher-cut diamond and a beautiful emerald.
The design is timeless, yet still trendy. It combines the best of both worlds by being classic yet contemporary.
6- Combine a marquise and radiant-cut diamond set on a white gold band
This design will take your breath away.
7- Create a bold ring that features an antique old mine-cut diamond with a colorful garnet gemstone.
If you're the fashionable type, this jewelry piece feels truly one-of-a-kind.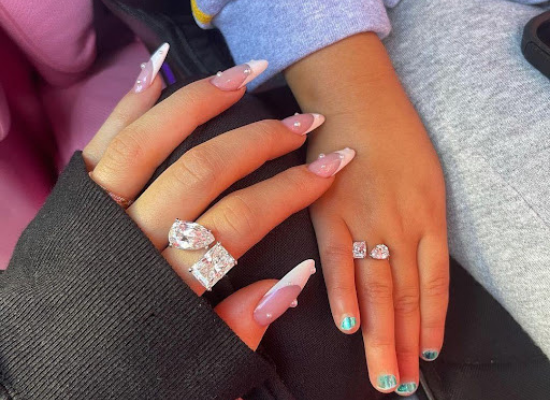 via @kyliejenner
Conclusion
Are you looking for a romantic gift or a unique ring that symbolizes your relationship? A relationship ring, often known as a Toi et Moi ring, might be the ring you've been searching for. Who would not be delighted with a diamond ring as a present? But, why get one diamond when you can get two?
On JewelersConnect you can connect with our skilled craftsman to choose the perfect two stones and style that suits you the best. They will create your ring from scratch adding all the details you ask for to create your one of a kind toi at moi.