Are you in need of a wrist accessory covered in diamonds for a shiny sophisticated look? Then tennis bracelets are the perfect item to add to your jewelry collection. Tennis bracelets are timeless pieces of jewelry. Tennis bracelets have been popular for decades because of their elegance, and it's the perfect unisex item, worn by both men and women. Diamond tennis bracelets revolutionized the jewelry market because they were worn day and night, which normalized diamonds becoming casual for everyday wear.
But let's find out what exactly is a tennis bracelet and why is it called that. The story how the iconic piece got its name is actually really cool.
 History
Chris Evert wearing a couple of bracelets as she prepares to receive serve at Wimbeldon in 1975
Photo Bob Thomas/Getty Images
If you've been shopping around for jewelry (or maybe have at least been scrolling through pages of dazzling pieces on Instagram or Pinterest), then you've probably seen the tennis bracelet jewelry trend everywhere. You know, those dainty, little diamond pieces worn around the wrist, that sparkle in the light and look fabulous when layered with other stylish bracelets?
Before they were "tennis bracelets," they were in fact called "eternity bracelets" and they were designed to express eternal love. It wasn't until the late 1970s that tennis bracelets became as we know them now, Tennis Bracelet, and blessed us all with the trend of pairing it with casual wear.
At the 1978 U.S. Open, tennis star Chris Evert was playing in a hotly contested game. She was in the middle of her match when she dramatically called for the game to stop and asked the officials for a time out. She noticed her diamond bracelet had fallen off her wrist, and she wanted to find it before playing the next point. This occurred due to the clasp on her bracelet snapping.  Later in an interview, Evert was asked about the bracelet incident, in which she called it her "tennis bracelet", and so the famous signature accessory name was born. The bracelet Evert was wearing during the match was a line bracelet set with diamonds made by well-known jewelry designer George Bedewi. Traditionally featuring diamonds, this style of bracelet can also be set with colored stones or a combination of one's favorite gemstones.
The bracelet's popularity grew owing to Evert's incident, which brought it into the public eye. It became known as the tennis bracelet ever since.
Chris Evert wearing a tennis bracelet while she faces service from Martina Navratilova in the 1978 Wimbledon Final Photo Getty
Chris Evert wasn't the only tennis star to wear diamond bracelets during matches. The 1970's and 1980's were decadent years in American History. The 1970s were a time of extravagance and wealth, with the most popular method to flaunt pricey taste being through clothing and jewelry. Diamond tennis bracelets on wrist became the norm to wear at any time, day or night, not just special occasions. People for real wore diamond bracelets while playing tennis? Do tennis players wear tennis bracelets today? Absolutely. Recent tennis stars such as Serena Williams and Maria Sharapova carry on the tradition and are typically spotted with the bright accessory during their intense matches.
Jewelers began referring to eternity bracelets as tennis bracelets, and they saw their sales explode when they did. Apparently, people wanted an excuse to dress up their coziest day-to-day outfits with diamonds, and the tennis bracelet inspired them to do exactly that. The jewelry style became a must-have addition to dressier ensembles and once they started, they never really stopped. It's even more recognizable in a loungewear setting, though.
What Is A Tennis Bracelet?
Now that we have the history of the tennis bracelet covered, we can get into specifics about its design and other essential information you need to know before buying your next tennis bracelet. A tennis bracelet is a bracelet that contains small diamonds or other precious gems, connected underneath by a thin metal chain. The style of tennis bracelets is intentionally meant to showcase the sparkling diamonds or precious gems more than the thin material underneath. The metal material is simply meant to support the diamonds. As a piece of elegant jewelry, the base material of tennis bracelets is 14k gold or 18k gold and can be either white gold or yellow gold. Today it's on trend to incorporate color in tennis bracelets, like rose gold.
How Is A Tennis Bracelet Supposed To Fit?
Tennis bracelets are worn singularly, or you can stack multiple tennis bracelets on your arm at once. One of the best qualities of the tennis bracelet is the loose, flirty fit. The bracelet should slide down to the point where your wrist meets your hand when your arm is at rest. At first, you might think this is too loose, but if it doesn't run the risk of falling off your hand, it's a perfect fit. You don't want the bracelet too tight. Maybe to you that feels more secure, but it makes it more likely that the bracelet will give at the pressure and break off. Here's a pro tip if you're not sure what your tennis bracelet size is.
Measure your wrist first, then add 1/2- 1 inch more to determine what tennis bracelet size to purchase. You don't want the tennis bracelet to be uncomfortably tight fitting, so the extra inch will add space. You don't have to worry about if you can resize a tennis bracelet, since our jewelers will help you choose between the range of tennis bracelet size options.
The purpose of the tennis bracelet is being able to wear diamonds on a daily basis. It should be a piece that you can wear to the opera, out on the town, to the beach, and to the gym without thinking about it. So, when you decide to get one, you should create a design that is versatile and you will love wearing any time.
Is it okay for me to wear my tennis bracelets all the time?
Tennis bracelets are meant to be worn for any occasion, whether casual or fancy. That's why tennis bracelets became so popular. They were the perfect elegant accessory to elevate any outfit. Tennis bracelets don't just pair with suits or dresses. They can be paired with jeans, t shirts, and your favorite pair of sneakers to tie your look together.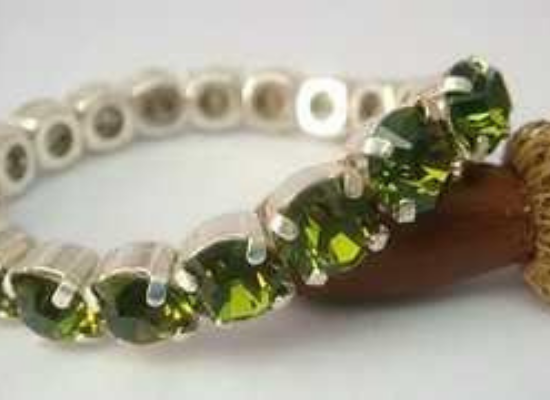 What to look for when buying a tennis bracelet?
When shopping for tennis bracelets there's a few things to consider before purchasing your perfect tennis bracelet. Tennis bracelets come in different styles. There're different variations of tennis bracelets known as "cuts." These cuts refer to the way the diamonds or precious gems are set on top the base material. The two main styles of tennis bracelets are Round Cut or Princess Cut. The Round Cut style is the most popular cut on the jewelry market because of its simplicity.
Round Cuts are diamonds or precious gems that have an exact circular shape. Princess Cuts are when the diamonds or precious gems have a square look to them, as opposed to round or circular. Both of these cuts are very common and timeless. The next factor to consider is how large you want the diamonds or precious gems to appear. Tennis bracelets in 3mm can be chosen when you want to go for a lighter look, on the other hand 5mm tennis bracelets will have a heavier or larger look.
Setting Types
There are three main setting types to choose from.
Classic prong setting – Prongs hold each diamond in place. This setting allows for more light to come in through the side of the gems.
Bezel setting- In this setting a band of metal goes all the way around the edge of each diamond giving the bracelet a symmetrical look.
Channel setting- This type of setting holds the gem on two sides, with the other sides being open.
The setting should ensure that all the stones are securely held in place, and they will not fall off easily. The design you choose should be based only on your personal preference to create the perfect jewelry piece.
Metal Options
While the white gold diamond tennis bracelet is probably the most popular, it isn't the only option. You can choose between a 10k, 14k, 18k yellow gold or white gold. Rose gold and sterling silver are available, as well. Budget gemstone bracelets might be made of sterling silver.
Diamond size, shape and number
While the classic design contains one row of diamonds in a straight line, some tennis bracelets feature two or even three rows of stones. As for the cut of the diamonds, the most popular is the round brilliant, although other cuts and shapes are becoming a trend matching with the shopper's personality and style.
Likewise, the number of diamonds can vary a lot. Inexpensive models will often use clusters of tiny diamonds to make a larger link with more sparkle. Although a typical tennis bracelet is generally made of white diamonds, fancy colored and vivid gemstones may be used to produce beautiful and distinctive jewelry that appears more modern than colorless diamonds. Since diamonds in a tennis bracelet are usually not certified, you will want to pay special attention when choosing the stones.
The reason the diamonds do not get certified is their small size. For example, if the price of certification alone is around $2,400 for a typical tennis bracelet containing fifty 0.20 CT diamonds, it isn't worth the time and expense of grading them.
If you buy a tennis bracelet made in white gold, make sure the diamonds look colorless, as yellow tints in them will stick out against the white background.
This doesn't mean you should have top-grade color diamonds (D-E-F) in your bracelet. In case you are shopping for a yellow or rose gold tennis bracelet, it is all right to have stones with a slightly yellow tint as the color of the diamonds will blend with the color of the metal and become less noticeable.
Pro tip: All the stones throughout the bracelet should be of the same color.
In the case of tennis bracelets, the clarity of diamonds is not as important as their color. These diamonds are too small for most of their flaws to be visible to the naked eye. However, keep in mind that clarity starts to matter more when your bracelet features larger diamonds (0.50 CT and above) since the inclusions in larger diamonds are more visible.
Important details you should consider:
Bracelet Links: The links of the chain should be secure and not easy to break. A tennis bracelet can be adjusted due to its links length. If your bracelet is too loose, a jeweler can remove several links to give it a tighter fit.
Safety Latch & Clasp: Going back in history, even though Chris Evert gave the tennis bracelet its name because hers fell off during a game, none of us want that to happen. The clasp should be solid and close safely. Most tennis bracelets that are truly secure have a clasp and a safety latch that snaps over the clasp. Aim to get both.
Flexibility: A tennis bracelet should be flexible. One way to test it, is to move your hand around, maybe even dance with your hands in the air when you try the bracelet on. If the way it moves feels comfortable, then the bracelet is flexible. The flexibility means it probably won't break. In case it is too rigid, it could easily break whenever you twist your wrist.
Bracelet Length: A perfect size tennis bracelet should move freely on your wrist without any discomfort. At the same time, it should not be too loose to slide off. Generally, to check the fit, you should be able to fit one finger between the bracelet and your hand. Experts say that the bracelet should be big enough to fit loosely on your wrist where it meets your hand. Put the bracelet on, and then insert your finger between the bracelet and your hand. If you can do it without the bracelet feeling tight, then it's perfect. Your jeweler can adjust the bracelet if necessary. Or you can order the correct length.
Styling your tennis bracelet
The nice thing about the tennis bracelet is that it is that comfortable you can wear it every day for a night out on the town as well as for the everyday. With  jewelry stacking still a significant trend, you may want to consider pairing your bracelet with one, or more, complementary diamond bracelets. The diamond tennis bracelet is most often worn on the left wrist. However, left-handed people typically do the opposite. The secret is to wear it on your non-dominant hand where it will get less wear-and-tear. Also, feel free to wear more than one at a time: a lot of celebrities have been seen stacking bracelets! Choose from a variety of bracelets with the same design or a different one. Consider mixing gold hues as well.
You can pair it in different ways:
Wear it with a watch – This look has really grown in popularity. You might have a beautiful diamond bracelet that's worth plenty of money, but you'll want to pick the right timepiece to go with it. Just make sure the watch you choose matches your bracelet style. You don't want some sporty, plastic, or digital timepiece paired with your exquisite diamonds. It simply doesn't look good.
Wear it with another bracelet – Some people get nervous about doing this because they are worried the bracelets will scratch each other, however it looks fantastic. Try not to wear double bracelets every day, but it's a great style for an evening out.
Wear it on its own – The tennis bracelet looks great with any outfit and makes one of the perfect jewelry pieces.
The versatility of the diamond tennis bracelet makes it the ideal accessory, whether worn on its own or with other diamond jewelry to make a statement.
A style guide to wearing a men's tennis bracelet
Each year, more men are wearing fine jewelry. Whether it's a way to wear your investments, a fashion statement or a way to express yourself, you can find a bold and beautiful men's diamond tennis bracelet that will complement your personality and your style perfectly. Keep it simple and minimal when choosing a tennis bracelet. A men's tennis bracelet should be sleek and classic. Choose larger stones if you want the bracelet to have a bigger impact. A diamond tennis bracelet should not be overshadowed by a half-dozen other bracelets on your arm. If you wear a tennis bracelet, make it the eye-catching item on your hand. You may wear it with a classic watch or on the opposite wrist if you like. Consider colored gemstones in your men's tennis bracelet as a change of pace from the crystal clear sparkle of diamonds. Black diamonds are sophisticated, but you might also want to consider brown or sapphire stones for a more dramatic touch of color.
Are tennis bracelets expensive?
When we hear the word "diamonds" we already think of an expensive price tag. If you're wondering why diamond tennis bracelets are so expensive, it's because of the quality of diamonds used on the bracelet. The more diamonds used, the more expensive the bracelet will be. But the tennis bracelet price doesn't always have to be expensive for it to be high quality. There is a significant difference in pricing when purchasing a classic tennis bracelet. Options range from a few hundred dollars up to tens of thousands. You can find a 10k gold diamond tennis bracelet with tiny diamonds for less than a thousand dollars, for example. On the other hand, for a high-end option a ten-carat baguette diamond tennis bracelet would cost tens of thousands.
There are three factors that effect the pricing of diamond tennis bracelets. These are the gemstones chosen, the gold chosen, and the style. With diamonds, each of them is priced according to the 4C's. Gold is priced according to quality and weight. Finally, there's the style of bracelet. With style, the big factor is craftsmanship.
Tennis Bracelet cleaning
Choose a mild jewelry cleaner or mix some dish soap in warm water.
Allow the bracelet to soak for a few seconds before brushing away any dirt.
Rinse in warm water, and let dry flat.
However, you should be cautious while showering with your tennis bracelet.
Doing so risks dislodging your diamonds or loosening the clasp, both of which can result in loss or an expensive repair. Wearing it every day is fine, just remember to have the prongs checked by a jeweler from time to time.
Conclusion
These days, diamond tennis bracelets are a dainty jewelry staple for your jewels box. They look fantastic on their own or stacked with other delicate jewels, and they're even paired with chunky bangles. And some have been updated to fit the times (think: bright stones and hanging alphabet charms).
Tennis bracelets are still made of real gold and diamonds, which means they're still rather pricey. In 1987, they'd set you back somewhere between $1,500–$30,000—and you can expect to spend a similar amount on an genuine one today.
Thankfully, there are tons of budget-friendly alternatives you can choose from especially when you go for a personalized bracelet. On Jewelers Connect, your bracelets are designed to be worn every day, while maintaining high quality and elegant design.
Browse your favorite account on Pinterest, and save the photos to send them on our platform for jewelers to recreate your own jewelry piece. Create a free account now, send a request and your will receive multiple offers you can choose from.