Jewelry gifts are timeless! Custom designed jewelry is treasured and can be passed down as family heirlooms. However, customized jewelry design can be expensive and time consuming to make.
This doesn't mean you should stop giving customized jewelry as gifts; it just means you might want to consider redesigned jewelry instead!
We've all got old jewels we don't wear because they're outdated, but did you know that old jewels can be repurposed to create new jewels?
Whatever the reason, jewelry doesn't get thrown away because they hold value. Whether it was a bad present, inherited jewel, or from a relationship that didn't work out, your jewelry shouldn't be thrown away. It's feasible to transform jewels into something you like showing off instead of hiding in your jewelry box.
There are several reasons why someone may want to recycle old jewels, ranging from a simple aesthetic preference to very personal and emotional ones.
What is Jewelry Makeover and how does it work? 
Jewelry makeover is the process of taking an old jewelry piece and redesigning it into something new and unique. This can be done by changing the metal, gemstones, or even just the design. How does it work? The custom jewelry designer will first take your old piece of jewel, then they will redesign it into something new.
Whether you call it upcycling or jewelry remodeling, it's a movement: Especially during lockdown women reverted their old gems, such as a family heirloom ring, grandmother's ring, a necklace they didn't like anymore, or an engagement ring that was no longer their style.
How do you make your jewelry seem brand new?
First of all, Redesign: Recycle Your Jewels by taking existing jewelry, such as old wedding rings and family heirlooms, you may turn the piece into something new. Second, make new pieces with a diamond pendant, necklace, earrings, or rings. Make a pendant out of a ring, an old pair of earrings into a new ring!
Custom Designs: Do you want a completely unique ring, necklace, pair of earrings, or other piece of jewelry? We may collaborate with you to develop a one-of-a-kind product that is entirely yours.
Last but not least, Clean & Repair: Bring in your most worn and cherished jewels to be restored, repaired, or stones replaced and have it appear brand new. Your fine jewels should be cleaned regularly. If you don't feel comfortable performing the task yourself, take your pieces to a jeweler to have them professionally cleaned. They have all the tools and cleaning fluids necessary to keep your jewels sparkling and prevent it from tarnishing.
How much does a Jewelry Makeover cost? 
The cost of a jewelry makeover will depend on the type of jewelry you want redesigned, as well as the materials used. However, it is generally much cheaper than custom designing a piece of jewelry from scratch.
It's impossible to provide you a precise quote since each one is unique, but we can at the very least offer you guidelines and limitations on pricing.
The typical cost for a ring to be recreated is about $650 for 18ct gold and $850 for white gold. This would be for resetting a single diamond into a new ring mount in a different design. You may be reimbursed for the scrap value of the gold in the old setting if you agree not to use it in your new ring.
Because there is less metal needed to create the item, components such as earrings and pendants would be less expensive to recreate. Most bespoke tasks that require freshly developed custom mounts start at around $500 and go up depending on the difficulty and type and weight of metal required.
Precious Gems and Diamonds
You may already have gemstones or diamonds in mind for your design, so using them as a part of the design helps a great deal toward the end cost, as precious gems may be quite pricey. Rubies, diamonds, and emeralds are some of the most valuable gems on Earth.
Gold And Precious Metals
You'll almost certainly have a lot of precious metals to invest in the product. We recommend taking advantage of the old precious metal you must 'charge' the creation of the jewel in new metal.
The addition of more gold to an item will produce a more durable, clean piece of jewelry as the melting of old gold has these effects. This implies that you may have to pay the difference between your old gold and new gold, but it all balances out based on how much gold you have.
Manufacture
And, of course, there's all the time that goes into creating your jewels; from concept to completion. If you choose to keep your old gold, there will be additional labor hours required for cleaning and melting it – talk to a professional jeweler about the best option for you and your design.
I'd suggest starting with $800-$1000 and working your way up to a jewelry designer or goldsmith who can work within a tight budget. This is a custom job and the more you spend, the better quality of work is often guaranteed!
I'm sure you'll agree that a person's jewelries are much more than the money spent on it, and it is an investment in oneself. It allows us to commemorate a portion of our life and flaunt it in one-of-a-kind jewelry that we enjoy.
Why should you consider a Jewelry Makeover? 
There are a few reasons why you should consider jewelry makeover instead of custom design. First, it is much cheaper than customized jewelry. Since the custom designer is reusing your old piece of jewelry, it can cut down on cost substantially. Second, custom design takes longer. If you are giving customized jewelry as a gift, custom design might not be the best option. Finally, custom designing an entire piece of jewelry takes a lot of time and skill. If you are not an expert in jewelry design, it is best to leave it to the professionals.
A jewelry redesign is a great option for those looking for something new and unique without spending a fortune. If you are considering it, be sure to also consider custom jewelry redesign as an option. It is a great way to update an old piece of jewel and give it new life.
Here are four reasons you should consider jewelry makeover
Jewelry redesign has all the same features of customized jewelry, but at a fraction of the price (and without the wait). Read on for 4 reasons you should think about redesignet options when gifting custom pieces this holiday season!
You can update old pieces of jewelry. Are there old jewelry pieces in your jewelry box? Perhaps you don't wear them because they've gone dull or don't suit your current style. But that doesn't mean they are not cherished pieces, correct? You may restore items that have been sitting around for a long time, with personalized jewelry design where there is no limit to your creativity. You can be the owner of contemporary jewelry with a distinctive style featuring precious metals and gemstones, redesigned just the way you like, and utilizing pieces that mean a lot to you.
It's a lot cheaper than customized jewelry, customized jewelry can be expensive, costing thousands of dollars. Jewelry redesign, on the other hand, costs just a few hundred or less than $100 (most start at $50). Chain Length-Custom pieces can take six months to complete with gold chains that are 50″ long (a standard length). Most redesigned pieces use 14″ chains because they cost 1/4th as much for the same weight of gold
It's faster than custom jewelry. Custom jewelry requires fabrication time and custom design time too, which often takes 30 days to 60 days! Redesigned pieces are made in just 3 to 5 business days.
Upcycling Jewelry Elements – custom design jewelers buy their stock wholesale then repurpose the jewelry elements into custom pieces. This results in a lot of wasted material and resources. Jewelry redesign uses recycled and repurposed jewelry elements, so there is less waste.
It's also environmentally advantageous to repurpose your old jewels since you're recycling materials. Recycling unwanted jewels into beautiful items of value that you'll wear instead of purchasing something new will help preserve the planet's resources. Using stones, you already have is a form of recycling; it saves one stone from being mined from the ground.
There are many more reasons to consider redesigned jewelry gifts this holiday season, but these four are a great place to start! You can get unique pieces that you can't find anywhere else. If you're looking for a unique, affordable, and fast gift option, then redesigned jewelry is the way to go!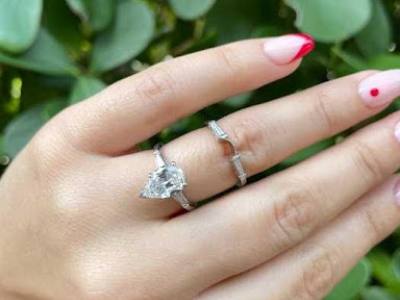 Why Should You Redesign Your Family Heirloom Jewelry?
A piece of jewelry inherited from a family member or someone close to us may carry a tremendous amount of sentimental worth. However, you may not love the piece's design.
This is where upgrading comes in; you may change the item somewhat to match your own taste while yet keeping the emotional significance.
Because heirloom jewelry is often connected to treasured memories and emotions, it's a great privilege to hear your stories and be a part of your significant life events. It's what makes our jewelers work meaningful.
When a diamond enters your life, we think it should stick around for good. Our high skilled jewelers can turn old jewelry or loose diamonds into a new design. You can use old diamonds in a new ring, upgrade your engagement ring, redesign wedding rings, convert a ring to a necklace, craft bracelets, and more.
Whether you have a family heirloom ring, old wedding ring from divorce, or you just have the diamond, we'll help reimagine these pieces into something you'll love to wear every day.
Update your engagement ring
You can update your engagement ring and create a new design with additional diamonds. Many women upgrade their engagement ring for a special anniversary. You may recycle your old diamond and obtain new stones, or you may start fresh on a new ring. Create a diamond halo around the original focal stone to give it a more polished look.
Commemorate a significant moment in your life by enhancing the design of your original wedding rings to better reflect your current style and lifestyle.
Make pendant necklaces out of mismatched earrings.
If you have a pair of earrings that you don't wear, bring them in. We'll custom design a necklace to use the earrings as pendants and create a custom chain for you! You can also craft twin pendants for best friends with a pair of earrings.
Create bracelets out of broken chain necklaces.
If you have a broken chain necklace, don't worry! We can custom design bracelets for you with the remaining chain. Often times, custom pieces with odd, shaped elements can be difficult to find. Bring your jewels in and our jewelers will build something you love!
Craft a "Toi et Moi" ring with a stone from each side of the family.
A custom design jeweler can custom make a ring that features two stones from each side of the family. You might use this ring to commemorate a special moment, like an anniversary. This is a unique way to represent your family and loved ones.
Merge wedding bands to create a fashionable cocktail ring.
If you want to update your wedding band, custom design jewelers can merge two or more rings into one. You might take a modern ring and merge it with your original design wedding band to create a unique cocktail ring. This can be a great way to update your look and keep your original wedding band as a sentimental piece.
Recycled gold
We'll recycle your old gold and send it to be refined, giving you a metal credit that goes toward your new piece of jewel when you create jewelry. Using gold that is already in your possession makes the new jewels less durable and causes flaws, pits, and alloy clumps, making it unwearable. The jeweler can melt down your gold and reuse the refined metal to create your new ring.
Reuse diamonds
Yes, you can reuse diamonds! The most durable and powerful stone is diamonds, which are the ideal stone for repurposing since they are the most long-lasting and robust. This is why diamond jewelry is so valuable and is handed down from generation to generation.
Combine diamonds and sapphire to create beautiful pieces
You can either redesign a single sapphire and diamond bracelet into rings and a necklace or all the way around to create a new piece that matches your style.
Conclusion
Have you been considering custom jewelry? Are you looking for a way to update your old jewelry collection? If so, then we have some great news for you! We'd want to introduce you to our platform and explain why we're the finest option for unique designs or redesigns in the sector. Whether it is customizing an existing piece or creating something completely new, we can help make your visions come true.
How it works is you send in your old jewelry and our team of designers will create a custom piece based on your specifications.
When redesigning old jewelry, our jewelers take care of everything from sourcing materials and using different techniques than those used originally; this includes handcrafted designs as well as machine made designs. This way, you can still get that custom look without spending too much. Our jeweler will consult you during the design process to create your dream piece of jewel!
We hope you enjoyed this post!