Women in the 20's flapper era were obsessed with bags, hats and flirtatious jewelry pieces, from rings to necklaces, and head jewelry, 1920's trend took a turn to "modernism". Out were the practices to wear your wealth and expensive stones, there was an incline towards fake plastics cheaper semi-precious stones.
The definition to dress up was to wear any sort of jewelry complementing ones look. This period was a drastic change where there were pressures of society to flaunt the wealth before WW1 and settling for forever changed jewelry industry.
EARRINGS
Women generally wore long drops for both day and evening; the most iconic shape was the chandelier shape. Gem stones were particularly the favorites which matched dresses and other accessories.
Due to short classic hair, the necks now fully exposed, making room for drawing attention to the neck with dangling earring. Diamonds were for formal evening wearing only.
Gems like coral, onyx, carnelian set in pure white or silver castings were on a peak. Unaffordable silver was swapped with sterling silver, nickel and silver platted pieces to look like white gold.
BRACELETS
As for bracelets, bangles, cuff, and wrist accessories they were a major fashion accessory in the 1920's, usually made of bright colored plastic like materials or gold with inset gems in the center.
Slave bracelets which were worn on the upper arm were extremely classy that were climbing up the arms, giving a nod to the Egyptian style goddess.
These pieces were embedded or contained images of mummy, pharaoh, vulture, lotus, scarab and various hieroglyphics. Falcons and scarabs had a revival in the 60'late 50's and 60's as well.
RINGS
With tremendous glitz and glam, the economy was booming as brides-to-be were drooling over studs and wanting more sparkle on their fingers. 1920's was ruled by art Nouveau style of filigree casings wrapped around diamonds or precious stones.
However, these stones were cut in more square and oval shapes than the traditional cuts, birthstones replaced diamonds in popularity.
These rings gave a subtle effect of romance and flirting when the flashy fingers tickled the necks.
NECKLACES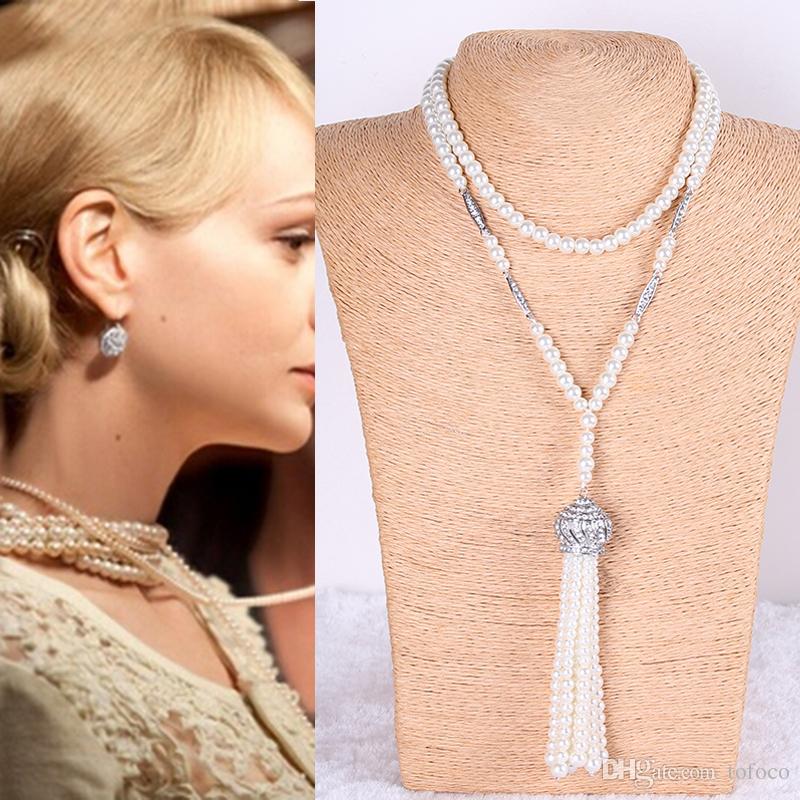 Long pearl necklaces
Strands of pearl necklaces were considered iconic in the 20's, these layers went up to 60 inches on up but they started getting shorter as the decade progressed.
Chanel was a huge promoter of pearls, instead of white regular pearls women were seen wearing light pastel colors such as gray and pastel pinks.
Long beaded necklaces were equally as popular as pearls. They had round faceted stones in the popular art deco color pallet- black, red, white, green. Stones were saturated with color.
It did not matter if they matched your outfit- clashing colors were in vogue! Beads made of Bakelite or Lucite (plastic) made jewelry affordable to the masses. From first glance it was nearly impossible to tell what was real or fake.
Tassel Bead Necklaces
Sautoir was one of the most popular necklaces which had a tassel or a large gemstone hanging at the bottom. It was so trendy that it would drop all the way down the back sometimes which always happened to draw attention to backless dresses and gowns.
Bib necklaces
Twenties was a lot more than creating new styles, it gave new formations to wearing the jewelry. Large pointed oval stones and squares stole the show; these were not exactly like chokers as they were a bit low on the necks also termed as dog collar necklaces. The rage was all about dragon, fast boats, fast dogs and flower shapes/designs which were the only non abstract pieces back then.
Hair jewelry
Apart from hats, turbans and scarves, gem and gold tiaras were breath taking that sat across the eyebrows, pearl strands were also used to make head accessories wrapped around hair buns and further connected with feathers and gems.