Even if you own an engagement ring, it's a feast for your eyes, scrolling through the greatest sparklers; here are a few we found. The worlds famous and rich have the tendency to rule the biggest and brightest diamonds. "Will you marry me?" sends shivers to ever woman especially when she gets to have a dazzling and luscious rock.
Victoria Beckham and David Beckham
It has been heard since their marriage, David Beckham has bestowed upon her 13 different glorious rings. The total estimated worth reaches up to $6.5 million.
Women have been drooling over Victoria's engagement ring; suffice to say it is absolutely gorgeous.
Kim Kardashian and Kanye West
Kim Kardashian definitely owns a show stopper kind of an engagement ring, given to her by Kanya West in 2013.
Her rings costs $8 million and are about 15 carats, yes, that's no joke. She was given another ring by Kanye which resembled the same design- the massive 15 carat Lorraine Schwartz design speaks for its worth.
Princess Diana and Prince Charles/Kate Middleton and Prince William
Princess Diana got to choose her own ring from a selection of Garrard Jewelers, she selected an 18-carat oval sapphire which Prince Charles presented to her, surrounded by 14 diamonds. Diana was quoted as saying, "It was the biggest."
Later, Prince William gave the same ring to Duchess of Cambridge in 2010. While Kate had this to say:
'It's beautiful. I just hope to look after it. It's very, very special.'
In fact, it's not only the ring itself; it's the legacy which has made it more priceless.
Iggy Azalea and Nick Young
The ring is estimated to cost $500K. Nick Young proposed our dearest Iggy Azalea with this flawless 10.43-carat diamond ring loaded with an 8.15 carat fancy intense yellow cushion-cut center stone designed by Jason Arasheben, which is further surrounded by white diamonds set in 18k white gold.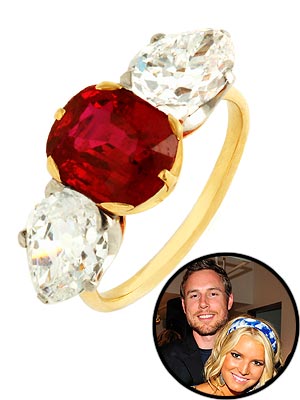 Jessica Simpson and Eric Johnson
Singer and actress Jessica Simpson became engaged to Eric Johnson in 2010 with a sized ruby.
This ring was designed by jeweler Neil Lane, it's a 5-carat ring with an attention-grabbing oversized ruby in the center, with two diamonds embellished on the either sides which further includes smaller diamonds all the way around.
This ruby is Jessica's birthstone and symbolizes love.
Lady Gaga and Taylor Kinney (Stefani Germanotta)
Lady Gaga was proposed by Taylor Kinney with a unique heart-shaped solitaire diamond designed by Lorraine Schwartz.
The engagement ring is estimated to be of 6 carats, this adorable $500,000 ring has a micro-pavé platinum band engraved with the initials "T ♡ S" on the back of the band. The couple split up in 2016 but it is reported that Lady Gaga kept the ring.
Jacqueline and Aristotle Onassis
Aristotle Onassis gave Jacqueline a $2.6 million engagement ring which she only wore twice (sadly) in 1953.
The ring is approximately a 40.42-carat Lesotho III diamond ring, this 2 carat emerald setting having baguette diamonds surrounding the stones, and the ring itself is gold.